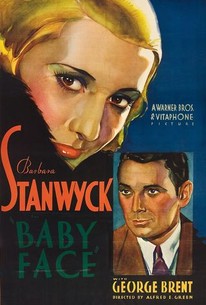 Baby Face
1933, Drama, 1h 11m
19 Reviews
2,500+ Ratings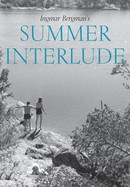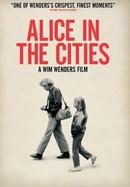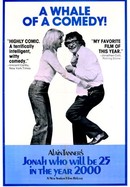 Jonah Who Will Be 25 in the Year 2000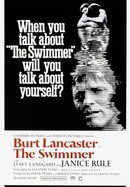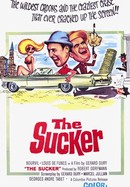 Where to watch
Rent/buy
Rent/buy
Rent/buy
Rate And Review
Movie Info
This film follows the sexual escapades of Lily Powers (Barbara Stanwyck), the beautiful daughter of a speakeasy owner. Lily's dreary life in Pennsylvania takes a sudden turn when her father is killed in an accident. Unmoved by her father's death, Lily, along with friend Chico (Theresa Harris), jumps on a freight train and seduces a worker to avoid being arrested. Now in New York City, Lily uses her beauty and sexual prowess to seduce a string of successful men as she works her way to the top.
Audience Reviews for Baby Face
Babs Stanwyck as a woman who decides one day to use men as she, unfortunately, has been used. Her rise to the top begins immediately. Look for a young John Wayne as an interested suitor, but this pre-Code tale assumes that you know, as everyone knows, that all men are only after one thing. Ms.Stanwyck interestingly looks too frail for the part, but her acting chops as the bad girl men fear - and desire - are right on target. Good, lowdown, pre-Code stuff.

There are several things that make this salacious pre-Code film worth watching, starting with Barbara Stanwyck, of course, who with her eyes and sexy come-on's seduces man after man to get ahead, literally f'ing her way to the top. There are some fantastic scenes from the beginning, where she fends off the advances of one man at her father's bar by pouring coffee on his hand, and explodes with anger at her father for essentially pimping her out since the age of 14. It's when he perishes in a fire that she has to fend for herself in the world. I'm not a big fan of John Wayne, but for those who are, you'll see him in an early role as one of her men along the way, and it was great to see Theresa Harris, who plays her maid. Lastly, I liked the elements of Nietzschean philosophy that at least form a basis for, and perhaps attempt to justify, Stanwyck using sex to get what she needs and wants out of men. On the other hand, the film is quite cynical and pretty linear in its plot. Stanwyck simply screws man after man - starting with a railroad worker who catches her hitching a ride to New York, and ending with an executive in a skyscraper. The film is brazen about this, and at one point she has sex in the ladies room, so if you're looking for elements of romance, this is not your film. How interesting is it that these "gold digger" themes are so common in films of this period, with men "victimized", when the far more prevalent situation in offices is sexual harassment, the inverse. While Stanwyck is one of my favorite actresses of the period, and it was exciting to see her in this steamy role, with those "take me" eyes and slow lead-ins to kisses, it's really rather hard to like any of the characters. The ending was a lame effort to patch some of that up, and didn't work for me. There are several Barbara Stanwyck pre-code films I would recommend over this one, including Night Nurse (1931), Ladies They Talk About (1933), and The Purchase Price (1932). If you're looking for high-wattage pre-Code shock value, though, this one is hard to top.

In "Baby Face," Professor Cragg(Alphonse Ethier) lectures Lily(Barbara Stanwyck), a barmaid, on not living up to her true potential. That might have something to do with the dive bar where she works or her father(Robert Barrat) unsuccessfully trying to pimp her out to Ed Sipple(Arthur Hohl), a local mob boss, who suffers the painful response of Lily's rejection. So, it might not come as a surprise that Lily is ambivalent at her father's death in a sill explosion. With nothing left to tie her to Erie and almost no money, Lily decides to take up the professor's advice by traveling to New York City with her friend Chico(Theresa Harris) to get a job in a bank, using her charms of seduction. While so employed, she rises quickly and is recommended by McCoy(John Wayne) to his boss Brody(Douglas Dumbrille) for a promotion who in return takes a liking to her. In olden times, women were not allowed to advance very far in business. So what was a poor woman like Lily supposed to do? The answer lies in the darkly entertaining and bracingly honest "Baby Face" wherein Barbara Stanwyck pulls out all the stops and then some as a character whose actions while not recommended, are certainly understandable by the social tenets of the day. At the same time, the movie takes shots at then current hypocrisies. For example, Stevens(Donald Cook) is engaged to Ann(Margaret Lindsay), the daughter of his boss(Henry Kolker). And how is that any different? On another note, I approve of any movie that references philosophy like this one but maybe psychology would have been the way to go instead for Lily, especially with the way she was raised. Note: This is the original unedited version.

<i>"Surely in this big, tall building there has to be a job somewhere for me?" "Well....do you have any experience?" "Plenty!"</i> Barbara Stanwyck as Lily follows the advice of Nietzsche (seriously!) to bury her feelings to escape the smokey speakeasy of her abusive father and to use a string of men in order to rise as both an employee and a mistress at a big city bank. Men come off as lascivious fools in this one as Lily can easily manipulate whomever she chooses - even John Wayne gets shot down faster than a bad guy in any of his Westerns. It's great to watch her in action though, with a few quality quips you'd expect from a 1930's script, like during this heated exchange early on: <i>"You can't talk to me that way, I'm your father!" "That's my bad luck, isn't it?"</i> Eventually she rises to the top by dating the newly-elected chairman of the bank's board Chatwood Trenholm (a more pretentious name there is not) and for the first time is affected by her feelings when he gets indicted for mismanagement. Will she chuck her winning system and sell her hard-earned luxuries to bail him out, or will she take the money and run? The ending gives a definitive answer to that but is still not very satisfying as the many problems that lie ahead are obfuscated by the appearance of the end title screen.
See Details