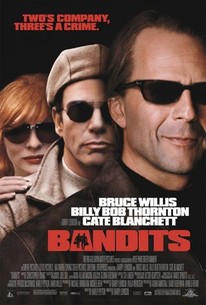 Bandits
2001, Comedy, 2h 2m
138 Reviews
50,000+ Ratings
What to know
critics consensus
The story may not warrant its lengthy running time, but the cast of Bandits makes it an enjoyable ride. Read critic reviews
Where to watch
Rent/buy
Rent/buy
Rent/buy
Rate And Review
Movie Info
Joe (Bruce Willis) and Terry (Billy Bob Thornton) have escaped from prison. Cutting a swath from Oregon through California, these fugitives rob banks in order to finance their scheme for a new -- and somewhat legitimate -- life south of the border. Unfortunately, things get more complicated when they meet Kate Wheeler (Cate Blanchett), who runs into Terry with her car. Kate joins the bandits on their cross-country spree, and eventually she steals something, too: their hearts.
News & Interviews for Bandits
Audience Reviews for Bandits
A potentially fun concept that's crippled by poor pacing. Levinson never really gets the tone right and I think the movie could stand to lose about 20 minutes.

Thumbs up to the cast for making this movie work even when it wasn't supposed to. As an aside, it's strange seeing Billy Bob Thorton playing a neurotic hypochondriac, it's definitely against type but he does a good job with the role and is definitely entertaining here. The cast is pretty much the only thing that I liked about the movie, and the way the film climaxed was actually pretty fun. I don't know, but the movie, the story and its characters never really clicked for me. It's nice to see a "heist" film, even if the heists themselves aren't the endgame, they're just there to progress the story, that focuses on the characters. The problem is, the characters aren't exactly interesting. The dynamic between Billy, Bruce and Cate is fine, even if it's cliched, but you're not really given much of a reason to root for either guy. For bank robbers, these guys aren't really interesting. The leads do a great job at sort of fooling you, but the truth of the matter is that the characters aren't great. Hell, it'd have been more interesting if Joe and Terry, the bank robbers, were actually a construct of Kate's mind and the life she really wanted as opposed to being a bored housewife whose husband neglects her. Joe and Terry represent the danger and risk-taking that her life so desperately needs. That would've been more interesting, to me at least, as it goes into the mind of someone whose life didn't turn out the way she planned and the psychological effects that had on her. Perhaps I'm reading too much into this, but I think it would've been better than what we ended up getting. I don't mean to say the movie is bad, I just found it largely uninteresting. Especially considering how long the movie was, I think this movie could've been told 100 minutes and it would've been much better. The problem is they spend too much time developing these characters and their "personalities" before the movie's story really starts. Because of this, the movie tends to drag heavily in parts. I really do think that a shorter running length would've done wonders for this movie. I thought the climax was actually pretty cool and funny, and it was, outside of the leads themselves, the best part of the movie. Some parts of this film are fun and other parts are a chore to get through. So this is really just an average film, at best.

Bandits is a quirky heist film that delivers laughs, but is messy and unfocused. After breaking out of prison Joe and Terry become infamous bank robbers known as the Sleepover Bandits, but when a lonely housewife takes refuge with them things start to spiral out of control. While the story starts off well enough, once the love triangle is introduced the film quickly comes apart and becomes overburdened with cliches. Bruce Willis and Billy Bob Thornton have some good comedic chemistry, but Cate Blanchett completely hams it up. Though a lot of the comedy plays, Bandits gets caught up in a convoluted love story that doesn't work.

Of course, Bandits is not one of the best film ever, but presents a nice script, a good cast and a very good performance by Thornton. Bandits, also, most have not much material to present in 122 minutes, problem that could make the movie stay a little boring. Fresh.
See Details