The Bang Bang Club
(2011)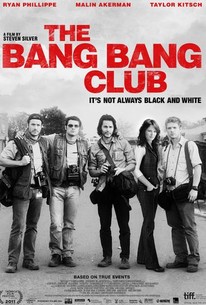 The Bang Bang Club Photos
Movie Info
The Bang Bang Club is the true story of four young combat photographers bonded by friendship and their sense of purpose to tell the truth. They risk their lives and use their cameras to tell the world of the violence associated with the first free elections in post-Apartheid South Africa. Ryan Phillippe, Malin Akerman and Taylor Kitsch star in a film that explores the thrills, danger, and moral questions associated with exposing the truth. -- (C) tribeca
People Who Like this movie also like
News & Interviews for The Bang Bang Club
Critic Reviews for The Bang Bang Club
Audience Reviews for The Bang Bang Club
I have read that the book was better than the film...that being said, I haven't read this book. So, I am not biased. This biodrama film was rivoting. You couldn't help but get involved with each character, and the risks that they took to document the tragic violence in South Africa. The cinematography was spot on, the acting was really good, and the script was well-written. I enjoyed this....
Cynthia S.
Super Reviewer
It was definitely an interesting watch, with some really good cinematography however it just felt a bit sterile. I wasn't keen on many of the characters but I guess that's what happens to people when they live in a war zone. Kitsch did a great job as Carter and by the end, it was so emotional and it really made me think about what goes on in this world. A good watch but nothing I'll see again.
Sophie Burgess
Super Reviewer
Based on actual events, this is the story of four photographers who, during the last years of Apartheid, put themselves in harm's way to capture the events of the tumultuous struggles going on across South Africa. Overall, this is a decent film, but it doesn't quite live up to its potential to be great. The film is rather unbalanced in that it focuses far more on two of the guys instead of giving all four of them equal amounts of development, and also that it seems to run of out steam part way through, which is a shame because it starts off pretty decently. It doesn't totally fall apart by the end, but it definitely feels like thigns are running on fumes. Also, even though I don't always mind adding in material for dramatic purposes, it wasn't necessary here as there's already pelnty of drama in the real story. A better job of establishing the context and background for the events would have been nice as well, but I had some idea of that sort of stuff, though I had no knowledge of these four men prior to seeing this film. Still though, the film is shot decently, and there's some godo performances here, especially from Ryan Phillippe and Taylor Kitsch. All in all, a well meaning film about an important subject that is passabel enough, yet not quite worthy of getting a full on recommendation.
Chris Weber
Super Reviewer
The Bang Bang Club Quotes
There are no approved quotes yet for this movie.