Bang-kah (Monga)
(2010)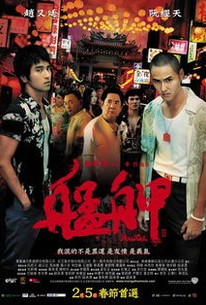 AUDIENCE SCORE
Critic Consensus: No consensus yet.
Movie Info
A delinquent becomes a full-fledged criminal as Taipei's underworld explodes in this drama from Taiwanese director Doze Niu. In the 1980s, Mosquito (Mark Chao) was seventeen years old when his family moved to the rough and tumble Monga district of Taipei. As the new kid at school, Mosquito was frequently harassed by bullies until he struck up a friendship with Dragon (Rhydian Vaughan), a tough kid whose father, Geta (Ma Ju-lung), was a local mobster. Mosquito and Dragon form a gang, "The Gang of Princes," and their swaggering style and willingness to fight makes them big fish in their school's small pond. But a bloody run in with rival gang banger Dog Boy (Chen Han-tien) gives the boys an education in the consequences of the gangster's life, and Geta tries to teach the boys about the necessities and realities of life outside the law. Mosquito and Dragon are not easily dissuaded, and after graduating from school the Gang Of Princes take their place in Monga's organized crime community. But the violence and chaos of life on Taipei's streets is ramped up to new heights when crime boss Gray Wolf (Doze Niu) launches a turf war to take control of the territory. Mengjia (aka Monga) was an official selection at the 2010 Berlin International Film Festival.
Critic Reviews for Bang-kah (Monga)
There are no critic reviews yet for Bang-kah (Monga). Keep checking Rotten Tomatoes for updates!
Audience Reviews for Bang-kah (Monga)
A clear portray that captures the Taiwanese gang culture. The acting was retarded, but the actions were cool, and the subplot of romance was quite lovely. the soundtrack was good too, effectively emphasized the scenes. Overall, not a bad film from Taiwan.
Sylvester Kuo
Super Reviewer
½
Doze Niu delivers a solid Taiwanese gangster film in Monga.
Honestly, there is nothing out of the ordinary or anything extremely surprising with the story; however, it is well thought out and told. The film also employs a lengthy introduction to setup the main story and build some nice camaraderie between the main characters. It is nearly 20 minutes before the actual title is displayed on screen.
Despite the gangster theme of the picture, there isn't a whole lot of intense scenes or edge of the seat events that take place. This film has a lot of emphasis on the drama and it also extends out to the 2 hour 20 minute mark, which is quite long. As for the brawls and street fights that take place, they are on the mild side when it comes to the violence and blood level.
The acting and casting is noteworthy, which is a plus for a film that is high on the drama. Ching-Tien Juan really shines with his character and in a film full of male gang members Chia-yen Ko is a welcome relief to the eyes, although her involvement in one of the subplots isn't exactly substantial.
Monga does have an elongated narrative, but it is still a successful gangster film out of Taiwan.
Bang-kah (Monga) Quotes
There are no approved quotes yet for this movie.