Barking Dogs Never Bite (Flandersui gae)
(2000)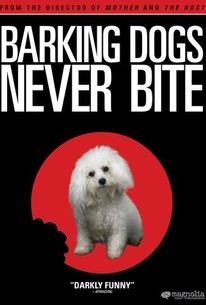 AUDIENCE SCORE
Critic Consensus: No consensus yet.
Barking Dogs Never Bite (Flandersui gae) Photos
Movie Info
A man who has decided dogs are not his best friend takes matters into his own hands in this dark comedy from South Korea. A college professor (Lee Sung-jae), who with his wife is awaiting the birth of their baby, is being led to the end of his tether by the constant barking of a dog somewhere in the apartment complex they call home. In a fit of rage, he snaps and kills the dog in a nearby flat -- only to discover another dog is still barking somewhere in the building. Soon, one dog after another is disappearing, and the angry teacher is having to come up with new and creative ways to hide his grisly pastime. Meanwhile, the manager of the apartment building (Bae Doo-na) keeps getting more and more complaints about pets who've gone missing, and becomes increasingly determined to find the culprit. Puhran Dah Suh Uigeh was the first feature from director and screenwriter Bong Joon-ho. ~ Mark Deming, Rovi
Critic Reviews for Barking Dogs Never Bite (Flandersui gae)
There are no critic reviews yet for Barking Dogs Never Bite (Flandersui gae). Keep checking Rotten Tomatoes for updates!
Audience Reviews for Barking Dogs Never Bite (Flandersui gae)
½
I'm a big fan of Bong Joon-ho's work. Three of my favorite Korean movies are movies he's directed (those being Memories of Murder, The Host and Mother), so I definitely wanted to see this movie. While it's an entertaining movie, it isn't consistently so. Some parts are simply better than others. Which can be said for almost every movie, but it's more noticeable here because of its consistency and pacing issues. But the movie really drags. It drags to the point where it'd have probably been a better as a short film instead of a full length one. It would've been funnier and definitely better paced. The movie does have it's very funny moments and likable leads (in spite of one of them being a dog murderer) and I can say that I still liked the movie with all of its faults.
Jesse Ortega
Super Reviewer
A wickedly smart and hilarious black comedy/social satire from the master of South Korean cinema himself, Bong Joon-Ho. It is a film about a struggling graduate student (Sung-Jae Lee) caught up the seemingly endless rat race of everyday life. The Seoul of Joon-Ho's mind is filled with a burnt out population who feel that they can only achieve greatness through unscrupulous avenues or in the unlikely event that they will end up on television. When Lee seems to be on the precipice of madness due to constant societal demands, his rage is projected onto a neighbors dog. What ensues next is an opaque but comical attempt to dispatch the poor animal. What sets Joon-Ho apart from his cohorts in Korean Cinema, namely Park Chan-Wook, is that he isn't there to solely shock the viewer. Sure the material makes for some surprising moments, but Joon-Ho brings up some important questions. Why do people pamper animals when they themselves must toil endlessly just to achieve sustenance? Why do people long to nourish animals when they are not nourished by their own caretakers? It is an interesting and thought provoking film that is wrapped in a delightful black comedy and is definative proof that South Korean directors are some of the most premiere filmmakers of this generation.
In "Barking Dogs Never Bite," Yun-Ju(Lee Sung-Jae) is like a lot of other people with advanced degrees in that he is out of work, currently held prisoner to the hormones of his pregnant wife(Kim Ho-Jung). It is only fair since she actually has a job and brings home the bacon whereas he has to go and get the walnuts. Otherwise, things may be looking up on the employment front as a professor was killed by a subway train, creating an opening. So, all Yun-Ju needs is a $10,000 bribe. In the meantime, he gets obsessed with a barking dog, stealing it and hiding it away. The dog's owner, a young girl, misses her little dog so much that she prints flyers which Hyeon-Nam(Bae Du-Na) stamps in her official capacity. In her unofficial capacity, she posts the flyers for the girl. And then Yun-Ju realizes he might have gotten the wrong dog... "Barking Dogs Never Bite" is a delightful and funny dark comedy that shows Bong Joon-Ho with his debut feature already has a command of the medium with his shot compositions and deceptively complex plotting. What the movie especially reminds me of is Jimmy Breslin's entertaining columns about his hatred of dogs, especially those in cities where they have a tiny amount of room and are locked up all day. Humans, like dogs, need their space to roam which is not easily found in such confined surroundings that may not also be conducive to good mental health. This thought is expressed well throughout the film, especially in the last two scenes. If animal cruelty turns you off, then this may not be your film but it is really not that gruesome. And it handles its criticism of cities much sweeter than that of "Seven" which said that if you live in a city, you will be miserable all of the time, it will be constantly raining(even if you live in Phoenix) and then Kevin Spacey will move in next door. Note: No animals were harmed in the writing of this review. I wrote it after lunch which is a whole different matter... (Originally reviewed in the blog section 3/3/2010.)
Barking Dogs Never Bite (Flandersui gae) Quotes
There are no approved quotes yet for this movie.