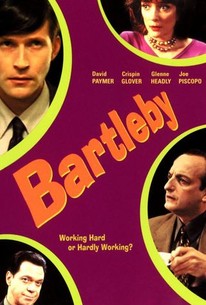 Bartleby
2001, Comedy/Drama, 1h 22m
54 Reviews
1,000+ Ratings
What to know
Critics Consensus
Bartleby is a rather dull affair, stretched over a too-long running time. Read critic reviews
Where to watch
Rent/buy
Rent/buy
Rent/buy
Rate And Review
Movie Info
A manager (David Paymer) hires a strange employee (Crispin Glover) who, at first, is exceptionally efficient but then refuses to work.
Audience Reviews for Bartleby
Having seen the original film version of this back in the early 70's (with Paul Scofield I believe), I was intrigued; wondering if my teen impressions of Mr. Melville's classic short story would have the same kind of impact. As presented here, the film attempts an update of the story, placing it in modern day within a faceless building. I would imagine that most of you know the story (I'm assuming that it is still required reading??) so I'm not going to go into the plot details; just let it be said that an odd soul answers an ad, gets hired and then begins stating that classic line whenever he is asked to do something other than simple filing: "I prefer not to". In this interpretation, the office is filled (well, if you can call two other workers, a secretary and a boss, "filled") with odd types - Glenne Headley truly shines as the secretary and Joe Piscopo gives a fair turn as a suit wearing lothario, stuck in a job he hates. At the center is David Paymer, who is the boss, and truly the focus of the film. He too is trapped, just doesn't realize it yet, and through it all his sense of humanity comes through - a fine performance. Sadly, this was a very small budget film - not that this in itself was condemming, but I found the off beat humor a bit offsetting (but I guess required given the despair of the subject matter), and somehow it all didn't fit together - coming across more as a college film school take on the material; although the seque from a shot of an airconditioning grate to the outside of the building, making it look like bars of a prison cell, was a nice touch. As the film fades to black and Paymer starts chanting "I prefer not to" shortly after mimicking the beginning scene where Bartleby grabs at the chain link that surrounds an overpass, you are left to wonder if the mantra is the key to freedom and if so, whether the true freedom can only come with making the ultimate sacrifice, turning your back on life itself. You can discuss Mellville till the cows come home, but we're here to discuss the film - which, I suppose, has glimpses of a deeper meaning, but ultimately fails to offer a more compelling storyline. Ultimately, if you are familiar with the material, the interpretation offers nothing groundbreaking, and if you are uninitiated, you'll probably shrug at this and say WTF?
See Details