Battle in Heaven
(2006)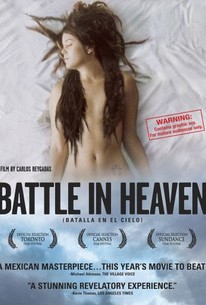 Movie Info
In Battle in Heaven (AKA Batalla en el Cielo), director Carlos Reygadas' searing look at the inherent hypocrisies of Mexico's social structure, Marcos Hernandez is Marcos, an overweight, poverty-stricken chauffeur who longs for a better life for his wife and young son. Desperate, the couple kidnaps an infant child for ransom. When the baby dies in their custody, this simple crime that Marcos hoped would brighten his family's future instead adds a crushing burden to his conscience and will bring dire consequences for Marcos and his wife if discovered. Meanwhile, Ana, an affluent general's daughter whom Marcos chauffeurs from place to place, secretly battles ennui by prostituting herself in a local brothel with her friends. The two confide their darkest secrets in one another, and as Marcos urges Ana to drop out of whoring, Ana tries to convince Marcos to turn himself in. Marcos, however, will not listen, insisting that true forgiveness and redemption must come from above. Batalla en el Cielo marked the second major international release for director Reygadas, after the acclaimed Japon (2002).
News & Interviews for Battle in Heaven
Critic Reviews for Battle in Heaven
Audience Reviews for Battle in Heaven
½
A very strange film, with very little action, taking place over just a few days. Long takes in which the camera pans about the scene while the action continues, often off-camera, lent a certain style to the film. However, the motivation for some of the action was entirely missing, as was any sign of emotion from the actors. What happens is fairly clear. Why those things occurred is still a bit of a mystery. Yet for all of its shortcomings, this still proved to be quite interesting.
Mark Abell
Super Reviewer
First movie made to date starring robots disguised as humans. Thus, explaining the lack of anything that remotely looks like a human emotion, or normal human behaviour, in this film. Anyway, Reygadas can't trick me with his smoke curtains, the man wanted to film fat people screwing. If you need more proof of the type of cinematic wanker this guy is, he's selling himself like a sort of Tarkovsky meets Breson. Seriously, nobody in his right mind will say they "enjoyed" this unless they're just trying to impress some pseudo-intelectual hot chick at some bar.
Tsubaki Sanjuro
Super Reviewer
Ugly fat guy sleeps with prostitute in graphic sex scene. Slow, plot-less, with characters you couldn't care less about let alone identify with.
Ross Collins
Super Reviewer
Battle in Heaven Quotes
There are no approved quotes yet for this movie.