The Beast Within
(1982)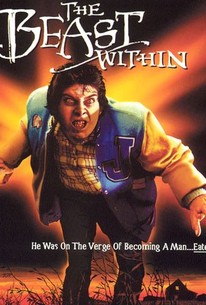 Movie Info
Tom Burman's innovative prosthetic special effects (used to greater effect in later horror films) are the saving grace of The Beast Within. The premise concerns a couple honeymooning in Mississippi. Caroline (Bibi Besch) is brutally raped by a hairy, sub-human monster and gives birth to a child named Michael (Paul Clemens), who appears normal until he hits his teens. At 17, Michael begins to feel strange, and his parents take him back to Mississippi to find out if his problems are related to Caroline's long-ago rape. Once in Mississippi, Michael transforms into a ravenous insect-like creature that roams the countryside, disemboweling innocent victims and feasting on their torsos.
Critic Reviews for The Beast Within
Audience Reviews for The Beast Within
The 1980's were a fin e time for horror film, with many outstanding films that have made their mark. However, many gems of the genre have been forgotten due to the fact that more popular films have overshadowed these stellar little shocker. One such film is The Beast Within, a stunning, gory thrill ride that has Science Fiction elements involved with its story along with body horror. This is a stunning horror picture, a film that is quite underrated, one that is brilliantly constructed in the ways it displays its shocks and thrills. The Beast Within uses effective gore techniques to build up the tension, and with the amount of blood-letting on-screen, it's more than enough to appeal to diehard genre fans. Of all those gems that came out in the early 80's, this is a surprising treat, a film that deserves to be rediscovered and enjoyed by a new generation of horror fans. The story is straight to the point, with nothing special, but the real thing that grabs your attention is the on-screen carnage, which makes up for more than half the film, and it's highly entertaining for that matter. The effects are very well done, and the tone of t6he fi8lm is dark, atmospheric with no glimmer of hope, the way a horror film should be. I guess by today's standards, The Beast Within is pretty tame, considering all the torture porn films that have been released in the last ten years or so. Nonetheless, this is a fine cult film, a worthy addition to the genre, and is sure to delight, shock and thrill horror fans that enjoy a good splatter film. The Beast Within is an underrated film, and it is a movie that doesn't deserve to be obscured and it deserves to be seen and cherished again. If you enjoy 80's horror, The Beast Within is a film that is highly entertaining from start to finish.
½
There is something perversely horrifying about a foreign entity manipulating you from beyond your control, but 'The Beast Within' is a rancid, leisurely paced inner-demon flick that cannot be taken solemnly due to the flaccid performance from Paul Clemens who only appears clammy and disoriented rather than terrified. Add to that, the asinine cicada sound F/X whenever Michael is stimulated are cheesy and cacophonous. The one shining contribution is the pulsating transformation scene in which Michael's skin inflates, peels off and contorts in inexplicably grotesque ways. At least Ronny Cox adds some urbane class to this otherwise strictly gorehound fare.
Cory Taylor
Super Reviewer
½
This one was from MGM Midnight Movies Double Feature, other Movie is The Bat People. The Seast Within was a excellent flix, but only worth 3 1/2 stars. It was better the expected and had a whole cast of people that normally play weird people in oter movies, it was a good gathering. Movie was going along fine till the beast face swelled up so bad it looked like something out of a kids flick. If they just kept is face the same as it was in mid movie it wouldl have been graet ad make up for that face was incredable. Worth Buying, Yea I guess as long as you get two movies for the price of one.
Bruce Bruce
Super Reviewer
The Beast Within Quotes
There are no approved quotes yet for this movie.