Beauty and the Beast
(2017)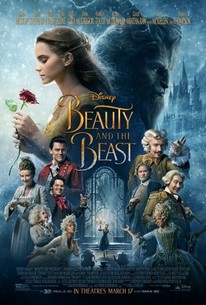 TOMATOMETER
AUDIENCE SCORE
Critic Consensus: With an enchanting cast, beautifully crafted songs, and a painterly eye for detail, Beauty and the Beast offers a faithful yet fresh retelling that honors its beloved source material.
Beauty and the Beast Videos
Beauty and the Beast Photos
Movie Info
Disney's "Beauty and the Beast" is a live-action re-telling of the studio's animated classic which refashions the classic characters from the tale as old as time for a contemporary audience, staying true to the original music while updating the score with several new songs. "Beauty and the Beast" is the fantastic journey of Belle, a bright, beautiful and independent young woman who is taken prisoner by a beast in his castle. Despite her fears, she befriends the castle's enchanted staff and learns to look beyond the Beast's hideous exterior and realize the kind heart and soul of the true Prince within. The film stars: Emma Watson as Belle; Dan Stevens as the Beast; Luke Evans as Gaston, the handsome, but shallow villager who woos Belle; Oscar (R) winner Kevin Kline as Maurice, Belle's eccentric, but lovable father; Josh Gad as Lefou, Gaston's long-suffering aide-de-camp; Golden Globe (R) nominee Ewan McGregor as Lumiere, the candelabra; Oscar nominee Stanley Tucci as Maestro Cadenza, the harpsichord; Oscar nominee Ian McKellen as Cogsworth, the mantel clock; and two-time Academy Award (R) winner Emma Thompson as the teapot, Mrs. Potts. Directed by Oscar (R) winner Bill Condon based on the 1991 animated film, "Beauty and the Beast" is produced by Mandeville Films' David Hoberman and Todd Lieberman, with eight-time Oscar-winning composer Alan Menken, who won two Academy Awards (R) (Best Original Score and Best Song) for the 1991 animated film, providing the score, which will include new recordings of the original songs written by Menken and Howard Ashman, as well as several new songs written by Menken and three-time Oscar winner Tim Rice. "Beauty and the Beast" will be released in U.S. theaters on March 17, 2017.
News & Interviews for Beauty and the Beast
Critic Reviews for Beauty and the Beast
Audience Reviews for Beauty and the Beast
½
Exquisite. I wasn't sure going in what to expect, but I have to say, I was taken by surprise. I felt the little girl in me wanting to burst out into a song with Belle's first scene. I enjoyed all the acting and thought each character was brought to life. ð~
Whether you are a die-hard fan of the animated Disney classic or not, there's no denying that the world has been captivated by this "tale as old as time" for quite some time. They have been working on these live-action adaptations for a while now, and while they pretty much are just replicas of the existing animated films, it's the fact that they are done with absolute care that matters the most. This live-action version of Beauty and the Beast may have some elements that aren't for everyone, but it's definitely a story worth revisiting one more time. None of these remakes have to exist, but if they are all as good or even better than Cinderella, The Jungle Book, and now even Beauty and the Beast, I won't find myself complaining too much. While not perfect, this film had me smiling and wanting more. Here are my thoughts on 2017's Beauty and the Beast. While watching this years rendition of Beauty and the Beast, it will be impossible to not compare it to the original animated classic, due to the fact that most of the film is a replication of that dialogue. At a mere 80 minutes, the original film was short and to the point. This version is almost an hour longer, adding in new sequences, adding more depth to the character of Belle. Aside from that, this film is everything you've seen before, but done very, very well. The story of a woman learning to love a beast for who he is on the inside is still as relevant as ever. Although Emma Watson and Dan Stevens probably weren't interacting all that much, their chemistry felt very real and very present. Everyone seems to be complaining about accents throughout this film, but found it to be quite charming and elegant. Admittedly, not every film can have the realistic look of 2016's The Jungle Book, but there were more than a few instances that stood out here. Yes, the CGI work throughout this film was very well done, but when Belle has close interactions with the beast, it did feel slightly awkward at times. As for the secondary characters in the inanimate objects coming to life, that was the most authentic work in terms of CGI in my opinion. It truly looked as though these objects were coming to life in the castle. Not only in making characters come to life, the technology utilized throughout the course of Beauty and the Beast was note-worthy. Everything about this film was incredibly immersive and the music just elevated that. When you recreate a film like Beauty and the Beast, you don't really have a choice but to include the classic songs in some shape or form. Utilizing all of the same music, while still taking the time to execute a few side plots containing some very good new tracks, this film is full of fresh takes on the classic tale. There are a few aspects that seem to be overdone here, like the villain for instance. Gaston is perfectly cast in Luke Evans, but his character is a bit too rough and tough in this version. I know that you are supposed to dislike him as a character, but I straight up hated this version, but then again, I'm sure they were going for that. To add to the casting comment, I absolutely loved the casting choices for just about everyone and their vocals didn't bother me one bit. The music was brought to the big screen with care and these performers were seeming to be giving it their all. Looking back on my experience with this film, I didn't find myself complaining about too much, but the run time may be about 10-15 minutes too long. I felt as though there were quite a few sequences that dragged on a little too long, but I was clammering for more throughout some of them. The musical numbers are terrifically executed, the visuals are quite stunning at times, the casting is spot-on, and although I feel as though the villain is incredibly overdone and the CGI of the beast is quite noticeable, this is a harmlessly safe re-telling of the classic story. Highly recommended for newcomers and fans of the original. Great family entertainment with a solid lesson that will never age. As mentioned above, remakes are not necessary in my opinion, but if they are going to be as well-made as this, I don't think people should be complaining yet.
½
Though it may come with much familiarity and not much tweaking in its story, the film is still a magical tale that rekindles the classical aura of the Disney original animation. Beauty and the Beast shines with its immense starpower, dazzling visuals and infectious tunes that refreshes a tale as old as time for new and old audiences. 4.5/5
Eugene Bernabe
Super Reviewer
Beauty and the Beast Quotes
| | |
| --- | --- |
| Lumiere: | Look, a girl! |
| Cogsworth: | I can see it's a girl, you fool! |
| Lumiere: | What if she is the one? |
Discussion Forum
Discuss Beauty and the Beast on our Movie forum!