Becoming Bulletproof
(2014)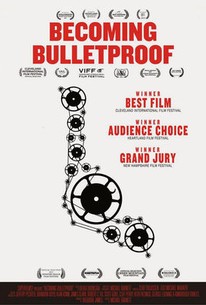 Becoming Bulletproof Photos
Movie Info
A group of disabled Americans take part in the production of a costume-drama Western movie.
Critic Reviews for Becoming Bulletproof
Audience Reviews for Becoming Bulletproof
½
I saw this at the 2015 Cleveland International Film Festival. Bulletproof is a western short produced by Zeno Mountain Farm. Zeno Mountain Farm runs a series of camps around the U.S. for differently abled people with many interests from sports to the arts. Becoming Bulletproof is a heartwarming feature-length behind-the-scenes documentary about the long running film camp and its 2012 effort to make a western. Professional filmmakers including the Halby family lead and assist. They wish to show that differently abled people can contribute to the arts. Thanks to the Halbys who attended the screening in Cleveland with several cast members my wife and I were able to see the final product on Vimeo. Bulletproof is not some amateurish fan genre flick of the sort that often appears on YouTube. The performances, which sometimes take more patience to capture, the costumes, settings, script, and cinematography are all of high quality. Now, let me say more about the actual documentary. It won three awards at CIFF including the Roxanne T. Mueller Audience Choice Award, and, from the screening I attended, the standing ovation was truly genuine. The star of the film is A.J. Murray. The documentary crew follows A.J. because this is his first year attending the film camp and his enthusiasm for acting in films is infectious. We witness the anxiety and physical hardships that A.J. faces with cerebral palsy, yet his positive spirit never falters. Jeremy Vest, who could be Michael Cera's brother, and, who has attended the film camp for several years playing bit parts, has now graduated to playing the lead. Bulletproof Jackson is a magician turned through myth and legend into a heroic gunslinger. Zack Gottsagen is introduced as a nice guy who has also attended the film camp for several years (and teaches acting to kids in his home town). He just happens to love playing villains on film. The whole diverse cast and crew work hard and demonstrate a family atmosphere at camp and the later film premiere. For me, A.J., Jeremy, and Zack stand out as the heart of the picture. A must see documentary for its combination of tears, laughter, and filmmaking adventure.
Byron Brubaker
Super Reviewer
Becoming Bulletproof Quotes
There are no approved quotes yet for this movie.