Bedeviled (Kim-bok-nam Sal-in-sa-eui Jeon-mal)
(2010)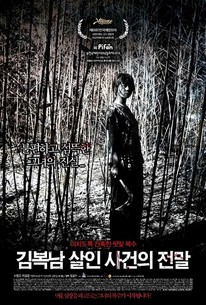 AUDIENCE SCORE
Critic Consensus: No consensus yet.
Bedeviled (Kim-bok-nam Sal-in-sa-eui Jeon-mal) Photos
Movie Info
When her pleas for help are ignored and cause her daughter's death, a woman seeks revenge on the person she blames.
Critic Reviews for Bedeviled (Kim-bok-nam Sal-in-sa-eui Jeon-mal)
All Critics (3) | Fresh (3) | Rotten (0)
Should be seen for its stunning acting, brilliant narrative, and incredibly heartbreaking finale.
It is this contrast between the two women that energises Bedevilled, a character-driven slowburner that builds ever so deliberately to its murderous climax.
February 2, 2011
Audience Reviews for Bedeviled (Kim-bok-nam Sal-in-sa-eui Jeon-mal)
I find it absolutely amazing that Korea hasn't worn out the revenge genre. Bedevilled is one of those films that is more effective the less you know about it. Even the poster gives away too much. It, at first, seems to be the tale of a young bank clerk who was a possible witness at a serious assault. The pressures of having to finger the culprits and building tensions at work leaves her in serious need of a break. She returns to an island where she spent time as a child, but the island is very insular, controlling, and a young mother named Bok Nam is the victim of a lot of abuse. The building tension contrasts beautifully with the stunning visuals. I forgot what genre the film was supposed to be after the first 30 minutes. The pacing was so deliberate and well crafted that the film also begins to play with your expectations and starts to make you question who the protagonist is. The film is about responsibility, and taking action when others suffer. It's truly tragic and the final half is a terrifying but very real series of events. A stunning performance from Seo Yeong Hie propels this among the greatest of Korean films.
Luke Baldock
Super Reviewer
"I stared at the sun for a long time, and it spoke to me." Bedevilled has to be one of the saddest, bleakest, most cruelly depressing movies that I've ever seen. And this is from someone who's watched a lot of depressing movies (what can I say, I'm an emotional masochist when it comes to film). Set primarily on a small rural island off the Korean coast, Bedevilled is about two women who were once childhood friends. One is a bank employee on Seoul, another lives on the island with her husband, several of his relatives, and her daughter. The woman on the island lives a wretched existence; mistreated absolutely horribly by her husband and his family. When her city friend comes to visit for a few days, it initiates a long-simmering chain of events that climax is blood, death and revenge. Bedevilled is truly a horror movie, but not because it's frightening (it's not) or because of the gore. It's a horror movie because of how viciously the characters are treated and the misery that they endure. It's genuinely hard to watch at times, and the acting is so well done that the cruelty is almost unbearable. Even when revenge finds these inhumanly despicable people, it's really not enough. You have to be a certain kind of viewer to appreciate a movie that makes you miserable as you watch it, and I completely understand that a lot (maybe most) of people won't fit that mold. But it presents the story it wants to tell so well that I can't help but give it a good score. Bedevilled is a good movie, it just puts you through the ringer in a way that goes far beyond the surface thrills of most revenge/slasher movies. Now, if you'll excuse me, I have to go watch Winnie the Pooh or something to drag my spirits up out of the crushing depths that Bedevilled buried them in. I suggest you have a similarly cheerful movie on-hand to help you recover if you decided to give this a try.
This is the shocking and disturbing horror tale set on a remote island, whose community has largely shunned the outside world. This is slow-moving and depressing drama that suddenly turns into bloody revenge film and it maintains the high standards set by South Korean cinema hits like Millions and The Chaser, and is a highly recommended. The cast is strong, especially Seo Yeong-hie gives a truly memorable performance as bullied Kim Bok-nam. Consumed by growing anger she becomes a beast. The script is horrific with several scenes of sexual and verbal abuse and plenty of bloody violence.Very brutal pay-off has to be seen to be believed. Check out this savagely beautiful drama.
Dean McKenna
Super Reviewer
Bedeviled (Kim-bok-nam Sal-in-sa-eui Jeon-mal) Quotes