Before I Fall
(2017)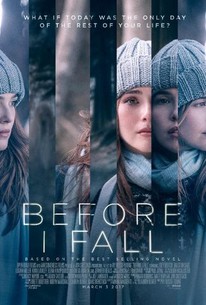 TOMATOMETER
AUDIENCE SCORE
Critic Consensus: Before I Fall's familiar ingredients are enlivened by a fresh YA perspective and a strong performance from emerging star Zoey Deutch.
Movie Info
What if you had only one day to change absolutely everything? Samantha Kingston has everything: the perfect friends, the perfect guy, and a seemingly perfect future. Then, everything changes. After one fateful night, Sam wakes up with no future at all. Trapped reliving the same day over and over, she begins to question just how perfect her life really was. As she begins to untangle the mystery of a life suddenly derailed, she must also unwind the secrets of the people closest to her, and discover the power of a single day to make a difference, not just in her own life, but in the lives of those around her--before she runs out of time for good.
News & Interviews for Before I Fall
Critic Reviews for Before I Fall
Audience Reviews for Before I Fall
½
Finding one's moral compass is a favorite movie theme. A high school student takes that journey just like Bill Murray did in Ground Hog Day by re-living the same day over and over. The film misses some beats along the way, but always finds its direction and delivers. Performances by young cast are excellent.
Aldo Gandia
Super Reviewer
½
DIE. RINSE. REPEAT. - My Review of BEFORE I FALL (2 1/2 Stars) Let's rip this bandaid off right away. I am not even remotely close to being the target audience for director Ry Russo-Young's BEFORE I FALL, with a screenplay by Maria Magenta (the excellent The Incredibly True Adventure of Two Girls in Love) based on the Young Adult novel by Lauren Oliver. Unless you're a teenager with a few life lessons to learn or if you're currently raising one, then watch GROUNDHOG DAY or EDGE OF TOMORROW again, which this film loosely resembles, except without the respective humor or excitement. Zooey Deutch, so winning in EVERYBODY WANTS SOME and daughter to Lea Thompson and director Howard Deutch (PRETTY IN PINK), plays Sam, who has a seemingly perfect life. She wakes up in her incredible suburban home, greets her gorgeous mom (Jennifer Beals), kind father (Nicholos Lea) and adorable little sister, played by Erica Tremblay, whose brother Jacob starred in ROOM. Those Tremblays are forming a dynasty and nobody's talking about it!! She carpools to school with her BFFs, all of whom love to sway their heads to the latest rap tracks while talking about boys, sex, and sex with boys. You see, they're all caught up in Cupid Day, some nonsensical ritual which takes place two days before Valentine's Day wherein roses get passed out by "student angels" to the most popular girls in school. Jesus, YA writers! Isn't high school torture enough without having to make up some fake event to give kids even more anxiety???!!! Cracks soon show in Sam's seemingly happy-go-lucky clique when they pick on the "weird" student, Juliet (Elena Kampouris, who must, must be the missing Fanning child, right?). You know she's a pariah because she has unkempt hair and wears really big sweaters. And just like that, Sam and her friends go from being horny, self-absorbed, selfie-obsessed narcissists to the MEANEST of the MEAN GIRLS. On their way home from a party in which they and their fellow students make out, puke, and further humiliate poor Juliet, Sam and her friends get into a terrible accident. Sam dies and wakes up on the very same morning as at the beginning of the film, forced to relive this fateful day over and over again. Can she prevent the accident from happening? What needs to change? The bulk of this silly yet very well-made film tries to answer those questions. Shot in British Columbia by cinematographer Michael Fimognari, the film looks gorgeous as the camera whirls and swirls around and editor Joe Landauer does his best to keep things humming along despite the repetitive nature of the story. Tonally, the film reminds me of THE PERKS OF BEING A WALLFLOWER, but what's missing is passion, depth and complexity. You see, rather than finding a way to overcome mental illness and stake your claim in this world like its predecessor did so wonderfully, BEFORE I FALL settles for trite Hallmark sentiments such as "Smile more" or "Be a little nicer, you garbage person!" In MEAN GIRLS and HEATHERS, you loved to hate those kids. Here, you just kinda hate them. It's no fault of the actors. Deutch has an adorable self-possessed nature that cuts through despite her character's hideous flaws. Her second in command, played by Halston Sage, has a sly mouth and sexy energy that feels like the end result of Gina Gershon licking Rachel McAdams up and down. She;'s a total star in the making. She and Deutch both transcend the severe limitations of their roles and display a sweet naturalism together. Logan Miller (THE WALKING DEAD, TAKE ME TO THE RIVER) also brings a nice warmth to his role as the perfect guy that Sam keeps snubbing. Russo-Young tries hard to achieve a style reminiscent of Fiona Apple's "Criminal" video, especially when our BFFs all cuddle together at the party. There's a hypnotic grace to her work which merits further attention. In the end, I was somewhat touched by the surprise twist and Deutch's ability to make you feel something just by the quality of her close-ups. It's not enough to make this trifle more than what it is, but we're very likely to see bigger and better things from Russo-Young, Deutch and Sage.
Glenn Gaylord
Super Reviewer
½
Films based on novelizations have been around since almost the beginning of cinema. Before I Fall is the latest story to follow suit. Getting a pretty wide release, this film hasn't been getting the box office return that I believe it was hoping for. I enjoy films, period. I will (for the most part) see any film that comes out in theatres. The trailer for this film looked off-putting, almost as if it was ripping off of other films and playing it too close to the chest in terms of keeping it very modern for younger audiences. Sadly, Before I Fall is exactly that, but becomes a much deeper story by the third act. Here is why I believe this is one of the rare films to continuously get better as it goes along. Zoey Deutch has been growing on me quite a bit through the years and I can truly see her being a much bigger star in the near future. This role was absolutely perfect for her range. This film takes us through a day in the life of Sam (Deutch), from her about to lose her virginity, to having to deal with bullying friends, to just flat out having a terrible day overall, ending in a car crash. Waking up in her bed again as if that day had never happened, she is forced to live the same day over and over again, until she discovers how it may be fixable. Her arc throughout this film may be pretty crazy, but the finale is worth the wait, trust me. I didn't like this film throughout most of the first act. Setting up the main premise does take some time here, and while this film does feel like a teenage version of Groundhog Day, there is a little more to it than that. Learning mistakes every time she wakes up, her mission becomes focussing on the ones around her, rather than herself. The first act is a generic party film for everyone between the ages of fourteen and eighteen, the second act is for indie lovers like myself, and the finale is for a much more mature audience. The third act is well worth the 100 minute run time, solely due to the fact that it gives the rest of the film a much larger meaning. I promise, even if you don't find this film enjoyable in any way, you will at least appreciate the effort in the finale. When it comes to bittersweet films such as this, it's imperative that it takes the time to explore a much lighter tone when deep aspects are not present. Before I Fall does a very good job in balancing these two ideologies. Finding myself compelling between the transformation of her character and how she slowly begins to make the right choices with the right people and leave her wrong choices aside was terrific. That being said, there are many instances of generic "Y.A." moments, like the use of the abbreviations "BRB" or "BAE." These things took me out of the film at times, because the overall meaning of this story was feeling betrayed and felt behind. A few aspects clashed with one another in this regard, but it was always able to get back up on its feet. In the end, Before I Fall has a very talent leading actress who clearly cares about this character and portraying her in the right way. It's not only a film about self-discovery, but also about the way we should look at others around us. This message seems to be for the teenage demographic on the surface, but the way the third act plays out makes it feel much more mature. With a film like this, I was expecting an ending that would completely compromise the core story, trying to go for something a little too abstract, but happily, just the right amount of deep is explored. Before I Fall is competently written (say for a few specific lines), well-directed, and the performances are very believable. It's definitely not for everyone, but I believe most audiences will be able to appreciate the finale, so I think that's saying something. For all of these reasons and more, Before I Fall is a decent little flick with a powerful ending.
Before I Fall Quotes
There are no approved quotes yet for this movie.
Discussion Forum
Discuss Before I Fall on our Movie forum!