Beyond the Gates
(2005)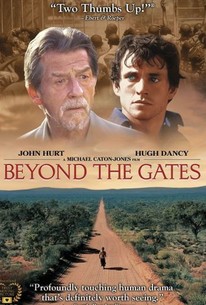 Movie Info
Two outsiders witness an onslaught of bloody Rwandan genocide in this fact-based drama from director Michael Caton-Jones (Scandal). In 1994, Joe Connor (Hugh Dancy) is a British schoolteacher who has volunteered to spend a year at the École Technique Officielle, a school in the Rwandan capital of Kigali. Connor's arrival in Rwanda occurs after the nation's Civil War between the Tutsis and the Hutus has dissipated (c. August 1993). Yet despite the official end of this well-publicized struggle, political negotiations between the two groups have reached a stalemate, and the Hutus begin systematic preparation for a mass-genocide of the Tutsi people (who have assumed political power via the establishment of the RPF). Connor has already seen signs of the coming conflict in the abuse meted out to Marie (Claire-Hope Ashitey), a Tutsi student who was one of his star pupils, as well as the bitter hatred expressed by François (David Gyasi), a Hutu janitor at the school. As the genocide erupts, with extreme Hutu factions slaughtering Tutsis by the thousands, the École Technique becomes a base of operations for Belgian peacekeeping forces from the United Nations. Most extended visitors from the West (especially America and Europe) flee Rwanda as the fighting breaks out, but Connor decides to stay, and in fact strikes up a friendship with Father Christopher (John Hurt), a Catholic priest who has come to the nation as a missionary. As Father Christopher serves mass and strives to offer solace to the Tutsis and moderate Hutus caught in the fighting, he and Connor use the school as a safe haven for Tutsi refugees; however, after five days of genocidal killing, the U.N. troops move out, leaving little hope for the people they were supposed to protect. Beyond the Gates was produced by David Belton, who helped write the film's story; Belton was a correspondent with the BBC who was assigned to Rwanda when the fighting broke out. ~ Mark Deming, Rovi
Rating:
R (for strong violence, disturbing images and language)
Genre:
Directed By:
Written By:
In Theaters:
On DVD:
Runtime:
Studio:
News & Interviews for Beyond the Gates
Critic Reviews for Beyond the Gates
Audience Reviews for Beyond the Gates
Too self-serving, and supplies absolutely no insight into the vital question of why Hutu hatred for the Tutsis could have reached such a boiling point.
Hal Morris
OUTSTANDING MOVIE!! Here's an amazing movie that depicts upon human tragedy that occurred in 1994 Rwanda. Highly touching story plot. Amazing performances by Hugh Dancy and John Hurt. Definitely a must-see.
½
Thematically similar to Hotel Rwanda this movie about the genocide of 1994 presents an equally hopeless situation as the angry mob gathers outside a school, (only temporarily) protected by UN soldiers, who refuse to do anything more than their mandate tells them. As the situation gets more and more dire, like a noose closing around someone's neck, John Hurt and Hugh Dancy have their moments to shine, just like the whole cast is really convincing. While some Christian analogies are maybe a little over the top, the movie is still extremely thrilling, frustrating and sad. Showing pictures of the crew members who lost someone in the genocide before the end credits basically makes it impossible not to be touched by this really powerful and important film, that would have deserved as much attention as Hotel Rwanda.
Beyond the Gates Quotes
There are no approved quotes yet for this movie.
Discussion Forum
Discuss Beyond the Gates on our Movie forum!