Beyond the Lights
(2014)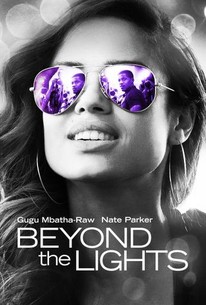 TOMATOMETER
AUDIENCE SCORE
Critic Consensus: Thanks to smart direction and a powerhouse performance from Gugu Mbatha-Raw, Beyond the Lights transcends its formulaic storyline to deliver thoroughly entertaining drama.
Movie Info
Beyond the Lights is the story of Noni, the music world's latest superstar. But not all is what it seems, and the pressures of fame have Noni on the edge - until she meets Kaz Nicol, a young cop and aspiring politician who's been assigned to her detail. Drawn to each other, Noni and Kaz fall fast and hard, despite the protests of those around them who urge them to put their career ambitions ahead of their romance. But it is ultimately Kaz's love that gives Noni the courage to find her own voice and break free to become the artist she was meant to be. (c) Relativity
People Who Like this movie also like
News & Interviews for Beyond the Lights
Critic Reviews for Beyond the Lights
Audience Reviews for Beyond the Lights
In the US this was released a few months after Belle also starring up-and-coming young actress Gugu Mbatha-Raw. Her indie cred seemed strong, so my wife and I caught this in mid-2015 on Netflix. Gina Prince-Bythewood writes and directs for a talented ensemble. The story is a pretty standard one about the pressures of fame and I was disappointed that it falls into an extremely traditional romance plot.
Byron Brubaker
Super Reviewer
A cop saves the life of a suicidal rising star, and they begin a frowned-upon romance. While the film's heart is in the right place and its depiction of the music world is a well-aimed barb, there is something off about the pace and plot of this film. It is essentially an emotional, over-wrought scene followed by a montage, followed by an emotional, over-wrought scene, and the plot points of the romance are awfully quick and - you guessed it - over-wrought. The characters jump to conclusions that no real, reasonable lovers would reach, and when the plot calls for a sincere moment, the film settles for a montage that doesn't reveal enough about their journey. Gugu Mbatha-Raw and Nate Parker are acceptable in their roles, but in their tender scenes together, there's something insouciant about much of their acting, as though the characters they create aren't making real and vital decisions. Overall, Beyond the Lights would have benefited from reworking its plot and stronger performances.
Jim Hunter
Super Reviewer
½
Striking just the right amount of emotion without being too sappy, "Beyond the Lights" tells the story of a pop-star submerged in stardom, with no freedom from her mother, as she tries to grasp the concept of true love and reality. Fame can be hard, and this film explores both that and the ideal of a happy life without it. I absolutely loved how this film as executed, and it;s smart script isolates itself from any cliched story that may be similar to it. It distances itself from the predictable story you think it will be and opens your mind. "Beyond the Lights" helms a breakout star performance, a great script, anice balance of terrible and good music, and I thoroughly believe that this is a fantastic film that could have failed miserably. Overall, I highly recommend this film, especially to those who are skeptical or have no idea what it is.