The Big Combo
(1955)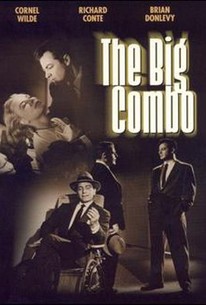 Movie Info
The Big Combo is a nervous, claustrophobic gangster picture directed by the always fascinating Joseph H. Lewis. Cornel Wilde is an honest 90-buck-per-week cop who runs afoul of mob boss Richard Conte. Failing to bribe Wilde into laying off, Conte has the cop beaten up by his thugs. Wilde persists, even daring to pay attention to Conte's mistress Jean Wallace. Wilde eventually comes by the evidence he needs to bring the law down of Conte's operation. The best scene in the film -- indeed, one of the best sequences in all of film noir -- is the murder of mob flunkey Brian Donlevy, whose assassins thoughtfully turn off his hearing aid before administering the fatal shots (the scene is played in utter silence!) The most interesting aspect of The Big Combo is that, while Richard Conte is despicable through and through, he behaves throughout as if he is being victimized, managing to stir up a tiny bit of audience sympathy in the process.
Rating:
PG
Genre:
, ,
Directed By:
Written By:
In Theaters:
On DVD:
Runtime:
Studio:
All Channel Films
News & Interviews for The Big Combo
Critic Reviews for The Big Combo
Audience Reviews for The Big Combo
The Big Combo is an old crime drama that was released early 1955. Its main storyline is the classic good vs evil plot. The director did a really good job of depicting certain dilemmas some of the main characters had with personal struggles to choose between right and wrong. One thing in this film that is portrayed well is that there is three different groups of people; the good guys, the bad guys, and then those who are bad who end up doing the right thing. The director did a good job expressing that even though you may be in a bad situation where you are involved with close friends, that it's never too late to make the right decision. Lt. Diamond seems to be on a personal mission to make sure that he gets his man, Mr. Brown. Mr. Brown is the organized crime boss who has become extremely powerful and wealthy. I really enjoyed how the film portrays Mr. Brown. He is one evil guy, who appears to be heartless. Earlier on in the film Mr. Brown is talking to a boxer and is explaining to him what makes him so "successful" compared to others, his secret is hate. That is what has motivated him, that and power, money and girls. It was a very insightful scene into letting us see more into his life. Mr. Brown has two helpers, Mingo and Fante. They do everything that they are told from Mr. Brown. They are too loyal to such an evil man. Lt. Diamond is portrayed as a typical cop in that he is a good guy who just wants the right thing done and works tirelessly to make sure that happens. He encounters many situations and setbacks, including that his own superior thinks he is wasting his time, trying to bring down Mr. Brown and how he has used too much money try to accomplish it. But in the end his hard work pays off. Mr. Brown, as it first starts off, has a girlfriend who keeps trying to escape from him because she is mistreated. As she tries to escape over and over again Mingo and Fante are assigned to keep her on a tight leash. It gets to the point where his girlfriend takes some pills in order to try and kill herself. Luckily for her she gets taken to the hospital in time and survives. But as she was close to dying she repeated "Alicia" multiple times, which gives Lt. Diamond a new lead and even closer to bringing down Mr. Brown. It ends up that Alicia was Mr. Brown's ex-wife, who is in a crazy house because she witnessed so many evil things that Brown did. She ends up being of great help to Lt. Diamond. Mr. Brown ends up losing patience and starts committing more crimes, so much so that Mingo and Fante have to hide in a hotel for a couple days in order to stay out of sight from the cops. They don't have much food and are surrounded by a lot of alcohol. Mr. Brown shows up one day to bring them food and lots of money so that they can escape and be able to live for a while. As they open the box of money, they realize that Mr. Brown put a bomb in the box and it explodes. Fante dies and Mingo is badly injured. At first Mingo is hesitant to rat out Mr. Brown even after he tries to kill them! But Mingo ended up telling the Lt. what happened. Brown is nowhere to be seen, but his ex-wife knows where he is hiding, at his private airport. Lt. Diamond final is able to get Mr. Brown.
Andrew Lifferth
The characters in "The Big Combo" aren't well-drawn or well-acted and there lies one of the film's biggest problems. While the script does have some interesting twists, it's flimsy and thinly written. Richard Conte provides a somewhat memorable performance, but the rest of the characters are instantly forgettable. "The Big Combo" works well when it comes to passing an hour and a half, but there's nothing about it that'll make you want to watch it again.
Stephen Earnest
Super Reviewer
Cornel Wilde stars as detective in love with society girl and gangster's moll Jean Wallace whose suicide attempt gives him the name "Alicia"; the clue that could be the break he needs to bring the sinister kingpin down. The Big Combo is the kind of Film Noir that feels like it's trying a bit TOO hard to be Film Noir. It has much to admire, mostly from a stylistic standpoint and has some excellent visual moments, but underneath it feels a little stale. The plot is simplistic and rather episodic, it misses the witty, literary dialogue of the best of the genre and Wilde and Richard Conte as his evil nemesis make for rather bland protagonists. What makes the film are some superbly directed scenes of gritty violence that invariably lack these two characterless adversaries; the joy of the film is definitely to be found in the supporting cast. Best of all are the two sexually ambiguous assassins played by a young Lee Van Cleef and Earl Holliman and Wilde's burlesque queen love interest, someone I wished we'd seen a lot more of. If you're a fan of Noir it's well worth it for the highlights and cinematography but if you're new to the genre, there are much better starting points.
The Big Combo Quotes
There are no approved quotes yet for this movie.
Discussion Forum
Discuss The Big Combo on our Movie forum!