The Big Green
(1995)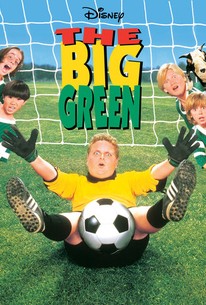 Movie Info
In this Disney comedy, the young misfits of a run-down Texas town find renewed hope and spirit when Anna, a plucky British teacher, introduces them to soccer. With the help of the town's former football champ, Anna struggles to prepare the kids for their match against the state soccer champions.
Critic Reviews for The Big Green
Audience Reviews for The Big Green
Mediocre comedy that doesn't do anything to make things interesting for the viewer, The Big Green fails to really grab your attention, and most of the gags are lacking in their delivery and as a whole the film isn't worth your time. This is one of those family comedies that use genre elements in order to create something fun and memorable. I felt that The Big Green could really have been something good, as the ideas here are interesting, but are underdeveloped, as if the script wasn't fully fleshed out, and overall it fails to be a memorable comedy and worthwhile film experience. There are far better comedies that the entire family can enjoy such as The Sandlot and Casper and of course Toy Story. You're time would be better if you would watch those, instead of trying to get into this one. After a while, the film falls apart, and becomes uninteresting, and as a whole, it doesn't stand out among other films, and it feels like it's trying too hard at duplicating other films like this, but to no avail. This film ends up being boring in the way that it tries to entertain, ands instead of being a fun comedy, it simply tries to outdo everything, and it fails to really make you laugh or enjoy it for that matter. Watch something different, as this film just doesn't have anything to make it amusing or well worth your time. I really was hoping for a film in the style of The Sandlot, where it would be whimsical, charming, fun and of course memorable, but in the end, it's a film that lacks anything to entertain you. Stick with other family oriented comedies, and pass up on this one, you're not missing much.
Even as a kid I knew this film was cliched and derivative. I happened to see it again the other day, and wow, it's worse than I remember. Sure, I did chuckle a few times, but man, the actng really is bad, and not just from the kids. It's a feel good story,but damn, it just offers nothing new and seems kind pointless.
Chris Weber
Super Reviewer
A sports team packed with lovable misfits overcomes wacky antics, random problems and extreme adversity and somehow manages to defeat the top team in the league. Plot of every sports movie? Yeah, pretty much. The Big Green is an exercise in numbing ineptness.
Drew Smith
Super Reviewer
The Big Green Quotes
| | |
| --- | --- |
| Anna Montgomery: | [after hosing the boys] I'm so sorry! What on Earth were you doing?? |
| Anna Montgomery: | [after hosing the boys] I'm so sorry! What on Earth were you doing? |
| Evan Schiff: | Feeding the birds. |
| Larry Musgrove: | There's not much to do in Elma. |
| Anna Montgomery: | Oh. |
| | |
| --- | --- |
| Larry Musgrove: | [upon seeing the "mowed" field by Evan, Newt, and Tak] This is rad! You guys are awesome! [steps in a cow pie] Ugh! Gosh! YOU'RE DEAD! [chases after them] |
| Larry Musgrove: | [upon seeing the 'mowed' field by Evan, Newt, and Tak] This is rad! You guys are awesome! [steps in a cow pie] Ugh! Gosh! YOU'RE DEAD! [chases after them] |