The Big Store
(1941)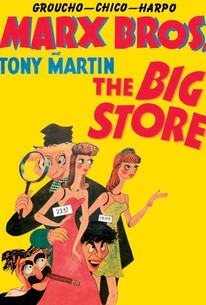 Movie Info
In the last of the Marx Brothers' MGM films, The Big Store, Groucho Marx plays two-bit detective Wolf J. Flywheel, hired by department-store owner Martha Phelps (Margaret Dumont) to act as bodyguard for Martha's nephew and sole heir, Tommy Rogers (Tony Martin). Crooked store manager Grover (Douglas Dumbrille) is anxious to take over the operation and to hide the fact that he's been juggling the books; to expedite this, he has arranged several "accidents" to put Tommy out of the way. Despite his monumental ineptitude, Flywheel manages to protect Tommy from harm, with the help of his mute assistant, Wacky (Harpo Marx), and Tommy's music-teacher pal, Ravelli (Chico Marx). After a series of yawn-provoking complications, Grover tries once more to kill Tommy during a musical reception given in honor of the store's merger with the Hastings Brothers. When this also fails, he kidnaps Tommy's girlfriend, Joan (Virginia Grey), a bit of skullduggery captured on film by camera-wielding Ravelli. Grover's efforts to get his hands on the incriminating photo leads to a zany slapstick chase through the department store, culminating in the villain's capture ("I told you in the first reel he was a crook," observes Flywheel) and a happy ending for Tommy and Joan. The opening routine in Groucho's seedy office and Harpo's harp solo (in which, through trick photography, he accompanies himself on flute and bass violin) are the only scenes truly worth watching in The Big Store; the big-chase finale is compromised by the fact that the Marx Brothers' stunt doubles do all the work, while the film's major production number, "Tenement Symphony," is downright embarrassing. The Marxes were so disappointed with The Big Store that they vowed to quit moviemaking altogether -- only to return to the screen five years later in A Night in Casablanca.
Critic Reviews for The Big Store
Audience Reviews for The Big Store
This Marx Brothers movie starts out just as funny as ever, but close to the end it gets overly silly and stupid, I am mostly referring to the chase scene, but in the end it gets back on track. Worth a look, especially if you're a fan.
½
New director and new producer, but at least Margaret Dumont is back. Tony Martin as Tommy Rogers is partial owner of a department store and star pop singer who wants to open a new music conservatory where youth can take music lessons. Dumbrille returns as another villain, this time as department store manager Mr. Grover. Something shady has been going on with the store's financial books and so Mr. Grover doesn't want this discovered if Tommy sells like he has promised to do. Tommy spends a lot of time hanging around the music department counter with Grey as Joan Sutton. She doesn't get much screen time or make much of an impression, again the romantic story line is pushed so far in the background that it hardly matters. Mr. Grover has Fred Sutton, who is Joan's brother, seductress Peggy Arden, a cop, and a couple thugs under his thumb. But who cares about any of them, the movie surely doesn't. Chico teaches lessons at the conservatory Tommy supports and claims to be his bodyguard. Chico is really not on top of his game here. Dumont is Mrs. Phelps, the widow of the namesake of the department store, co-owner of the store with Tommy, and supporter of his. She doesn't know Mr. Grover is behind it, but she becomes concerned for Tommy's safety and seeks out Groucho as private eye/bodyguard/gin rummy player, Wolf J. Flywheel. Harpo is Wolf's assistant and happens to be Chico's brother again. The scene in Groucho's P.I. office with Dumont, and Harpo at the typewriter and toaster is a riot. In fact any time Dumont and Groucho share a scene it is obvious they still have wonderful chemistry and you are bound to laugh once or twice. Well anyway, protecting Tommy from unknown assailants is just an excuse for the brothers to roam around different departments and cause mischief. The big musical number when Groucho is given carte blanche of the store is ridiculous. What is with the girl singing a swing song with no facial expression? The bedding department scene with disguised mechanical beds, the Italian family, and missing children is not that funny. And where did that Native American family come from again in badly stereotyped costumes? Harpo's fantasy scene playing harp in a trio with his own reflections in the mirrors was much more creative than his last few solo numbers. The other musical numbers aren't anything special. The big chase through the big store at the end had a couple fun moments but was too repetitive. And you could tell more often that either the brothers getting older or just the craziness of the stunts was forcing stunt doubles to do most of the physical stuff.
Byron Brubaker
Super Reviewer
½
A lesser known later day effort from the Marx Brothers, one that?s probably obscure for a reason. After about a decade of making these comedies, the Marx Brother?s shtick seems to have gotten a bit old at this point. The three were basically doing more of the same stuff they had been for so long, and this one just seems like someone wasn?t really trying. The film spends a rather large portion of screen time on bad musical number, one of which features some rather offensive racial stereotypes. The film is redeemed to some extent by its final chase through a department store, its exactly the type of chaos that made the brothers famous even though some of the stunts look kind of fake (Harpo Marx was no Buster Keaton). I?d recommend the film to hardcore fans if only for that scene, but as a whole this was not the Brother?s finest hour.
The Big Store Quotes
There are no approved quotes yet for this movie.