A Bill of Divorcement
(1932)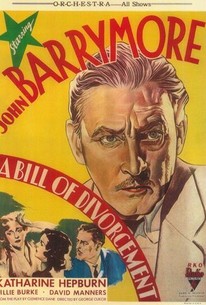 AUDIENCE SCORE
Critic Consensus: No consensus yet.
A Bill of Divorcement Photos
Movie Info
Katharine Hepburn made her auspicious film debut in the otherwise undistinguished A Bill of Divorcement. Based on a play by Clemence Dane, the film is set on the day that Hepburn's mother, Billie Burke, is to divorce her insane and long-institutionalized husband John Barrymore. But Barrymore escapes from the asylum and returns home, only vaguely aware of the passage of time (he was shell-shocked during WWI). His presence puts Burke in an uncomfortable spot, especially since she plans to wed Paul Cavanaugh. Pressured by her idiotically traditional family to renew her vows with her first husband, Burke is saved from a lifetime of misery by her spunky daughter Hepburn, who takes care of her child-like father. The film's attitude towards male-female relationships, not to mention its archaic approach to the problem of mental illness, make Bill of Divorcement a chore to sit through today. Its saving grace is the warm rapport between Katharine Hepburn and John Barrymore (contrary to Hollywood legend, they did not despise one another). Even given its dated quality, Bill of Divorcement is more palatable than its empty 1940 remake, which starred Maureen O'Hara and Adolphe Menjou.
Critic Reviews for A Bill of Divorcement
All Critics (3) | Fresh (2) | Rotten (1)
The dramaturgy is pure 19th-century, yet Cukor gives you Barrymore and the debuting Hepburn cutting through it like a couple of long-stemmed knives
Outdated family drama about dealing with mental illness.
Even in 1932, when the melodrama was made, the biological and moral issues of insanity were outdated, but Cukor's film features an original, striking turn from Katharine Hepburn in her screen debut.
Audience Reviews for A Bill of Divorcement
VERY stagy but interesting film served as Hepburn's screen bow. She's a trifle studied and Barrymore occasionally goes over the top but mixed in with that is some excellent acting by both. Billie Burke, more subdued than usual, delivers the film's best most consistent performance. She does a very fine job of showing the anguish of a life suddenly turned upside down.
I have heard for eons about how great an actor John Barrymore was, and I expected some good but overblown silent acting style from him. How wrong I was! He in reality had a naturalistic acting style that would hold up just as good today. This film is about a man who regains his sanity and escapes from a mental institution (after 16 years) only to find that his wife has divorced him and is about to marry again. Barrymore did a wonderful job of making you "feel his pain" at his discovery that the woman he adores loves someone else. And his body language that gave away that he wasn't completely well, was right on the mark, very much like people I have known who were treated for severe mental illness. This was also the first film of 24-year-old Katherine Hepburn. She plays the daughter who was born after the man's commitment to the asylum. All her mannerisms are already developed, and she's beginning to show the talent to come. She claimed later to have learned a great deal about acting from Barrymore during this film. Billie Burke, better known as Glinda in the Wizard of Oz, plays dramatic here as the wife. This really made me want to see more of Barrymore, but also made me wonder what Drew Barrymore could do if someone really gave her a chance.
A Bill of Divorcement Quotes
There are no approved quotes yet for this movie.