Iceman
(2014)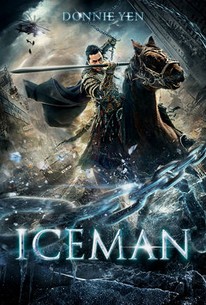 Movie Info
Donnie Yen is a Ming Dynasty palace guard, wrongly accused of murder and hunted by three vengeful brothers. All four are accidentally buried, frozen at the height of battle. 400 years later, they are defrosted and resume their mortal struggle - while also adjusting to modern-day life.(C) Well Go
Critic Reviews for Iceman
Audience Reviews for Iceman
½
This somewhat reminds me of the first Thor movie which, out of all the movies in the Marvel Cinematic Universe, at least revolving the Avengers, is the worst of them all. Of course it's completely different from that, but taking this character and placing him in a different era and place with different customs than what he was used to reminded me of when Thor first came to earth. Granted Donnie Yen's character isn't as arrogant and brash as Thor, which is kind of a shame. But talking about that is a moot point when the movie is this bad. Perhaps bad is the wrong word to describe this movie. But it's incomprehensible, inconsistent and muddled past the point of enjoyment. The action sequences, which see a lot of wire-work and CG effects, that are there are simply not enough to overcompensate for its very obvious faults. I literally have no idea what in the fuck the film was supposed to be about. I know something about Donnie's character travelling back in time to prevent the murder of 75 people from his village. Everything else after that, when the three royal palace guards make their way to modern times, is a complete and unadulterated mess. I genuinely have little to no interest in finding out what was going on. I don't care because even if I DID make sense of it, I'd probably end up hating the film even more. Mostly because I'd end up hating myself for trying to make sense of it all. So, yes, the story is absolutely fucking terrible. Which brings us to the comedy. I don't have a problem with bringing comedy in to what looks to be a very "serious" film, in how it's framed. In fact, I actively welcome it. Not everything can be so serious all the time. Humor is a part of our daily lives. Even when we're having a shitty day, there's some part of that day that will be comical. With very obvious exceptions of course. But the comedy in this film is not particularly good. It reminds me of something out of an Adam Sandler movie. Parts of it at least. It's just got some very low-brow attempts at comedy that certainly help in you not taking the film so seriously while failing to make you genuinely laugh. At least that's how I feel. It just doesn't work in the long run. The action sequences, while decent, are honestly nothing to write home about. I've honestly been spoiled rotten by The Raid 2. That's what I want my martial arts movies to look like. Maybe not all of them, of course, as variety is the spice of life. But these over-the-top films with a lot of wirework haven't always been my cup of tea. There are obvious exceptions like Hero, House of Flying Daggers, Crouching Tiger. I'm sure there's others that I've failed to mention. The Grandmaster is good, but not perfect, so that'd be a poor example. The point is the action, while the best part of the film, also falls far short of what one expects from this type of film. Donnie Yen is always good in these roles, but he's not exactly the greatest of actors. He's very good at what he does though. I just feel that the movie, with a lot of talented actors from Hong Kong actors and actresses, doesn't make good use of them. It is an action movie, after all, so there are very obvious limitations in place, but still. This is just a mess of a movie honestly. And the way everything was left off definitely means that there will be a sequel. So essentially I spent close to 2 hours of my life on something that didn't really have an actual conclusion. So I, obviously, feel like I wasted time that could've been spent watching something else or doing something productive. Not a horrific movie by any means but the fact that I felt that I wasted my time watching it is the worst thing I can possibly say about this. So, very obviously, I wouldn't exactly recommend this movie in the least. It has its B-movie charm at times, and some good action scenes, but the story is terrible and makes no sense to the point that you just tune it out. Only watch this if you absolutely must.
Jesse Ortega
Super Reviewer
Iceman Quotes
There are no approved quotes yet for this movie.
Discussion Forum
Discuss Iceman on our Movie forum!