Black God, White Devil (Deus e o Diabo na Terra do Sol)
(1964)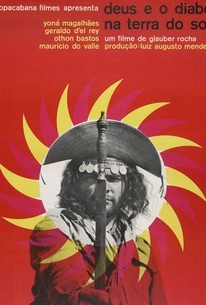 Black God, White Devil (Deus e o Diabo na Terra do Sol) Photos
Movie Info
Just twenty five years old, Brazilian cinema novo force Glauber Rocha wrote and directed this impressive feature addressing socio-political problems within his country--and indeed, anywhere it may apply. It is the 1940s, during another drought in the Brazilian sertao, when ranch hand Manuel is fed up with his situation. His boss tries to cheat him of his earnings and Manuel kills him, fleeing with his wife, Rosa. Now an outlaw, Manuel joins up with a self-proclaimed saint who condones violence and preaches disturbing doctrines. It is now Rosa who turns to killing and the two are on the move once again. And so it goes, the two running from one allegience to another, following the words of others as they attempt to find a place in their ruthless land. Blending mysticism, religion, and popular culture in this symbolic and realistic drama, Rocha insists that rather than follow the external and obscure dogmas of culture and religion, man must determine his path by his own voice.
Critic Reviews for Black God, White Devil (Deus e o Diabo na Terra do Sol)
Audience Reviews for Black God, White Devil (Deus e o Diabo na Terra do Sol)
An essential milestone of Brazilian Cinema that boasts a strong sociopolitical conscience and throws us inside a powerful amalgam of hopeless reality and nightmarish mysticism in a cruel sertão plagued by starvation, drought, violence and religious fanaticism.
Carlos Magalhães
Super Reviewer
½
a jaw dropping blend of eisenstein, ford and bunuel (among others), a unique and mind-blowing experience
Stella Dallas
Super Reviewer
This is a historically important Brazillian film that works on several levels. First and foremost it is a fiercely political and social film that captures the Latin America of the 1960's as socialism/communism were sweeping their way throughout the continent. Director, Glauber Rocha, is an unabashed socialist and the film for me works first and foremost as an inventive way to examine the politics of the time, especially in Latin America where socialism was becoming increasingly popular. This was also the era when law and order was begining to overrule the bandits of Brazil and at times (namely suring the second half) this feels like a western, though it is also a lot more than that. Secondly this movie deals with a lot of religious themes, particularily in the first half, where after killing the owner of the ranch where he is a hand, when his boss tries to rip him off, the protagonist seeks refuge in a cult on a mountain led by a self proclaimed profit named Sebastion. This portion of the film deals heavily with the corruption of the Catholic Church, explores why people might seek refuge with this kind of cult and also examines peoples faith in religion. How far will someone go in a belief, with the promise of a better future ahead, before they are willing to admit to themselves that this promised land is never coming, and the harsh reality of the here and now is all one should hope for. The movie also works on a third level in that it is also a very good story, that hooks you in and keeps you interested in the charatcers from begining to end. Where a lot of films that deal with these kinds of heavy concepts get overly heavy handed and lose the attention of the audience pretty quickly, this film really does have a great story to go along with it's main themes, thus possibly not scaring away viewers who might disagree with what the film has to say right away. While I do get the feeling that this film was made to spread some important messages, this film isn't mere propagnada. It is an artfully crafted film with a lot on it's mind, and a great story that should keep viewers intrested, despite their personal beliefs. Really an underappreciated gem that more people should seek out. Highly recommended.
Ed Fucking Harris
Super Reviewer
Black God, White Devil (Deus e o Diabo na Terra do Sol) Quotes
| | |
| --- | --- |
| Corisco: | Where no one will see me, won't hurt nor kill me. Neither shall the blood of my body be taken from me. |
| | |
| --- | --- |
| Antonio das Mortes: | I didn't slaughter those people for money. I killed them because I can have no peace with this misery. |
| | |
| --- | --- |
| Antonio das Mortes: | Where no one will see me,won't hurt nor kill me. Neither shall the blood of my body be taken from me. |