The Black Waters of Echo's Pond
(2010)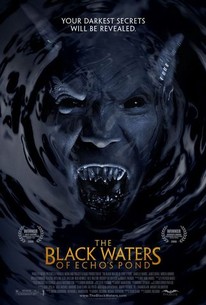 The Black Waters of Echo's Pond Photos
Movie Info
Robert Patrick and Danielle Harris headline this satanic shocker about a group of friends who discover a malevolent board game that unleashes the forces of hell through pent-up emotions. It was supposed to be a relaxing getaway for nine close friends, a carefree trip to a private island far-removed from the cares of the real world. Upon arriving at their gorgeous Victorian home retreat, one member of the group discovers a bizarre game hidden beneath the basement stairwell. Before long the group is gathered around the table, eager to learn the rules and have some fun. But this is no ordinary game, because with each roll of the dice the seething anger that everyone struggles to suppress boils over into a diabolical rage of murder and bloodlust. ~ Jason Buchanan, Rovi
Critic Reviews for The Black Waters of Echo's Pond
Audience Reviews for The Black Waters of Echo's Pond
½
I want to say The Black Waters Of Echo's Pond is worth seeing, but for the normal moviegoer I'd say no. No one has been invested in making it a better than an almost really good movie. The Black Waters Of Echo's Pond starts out really weak. Painfully bad. It had a really small budget, and quickly showed, along with costumes. The mediocre actors/characters are introduced, and it looks like it's going nowhere fast, but then it starts moving along. The game gets more intriguing, and the actors become more involved. It actually picks up a good pace, and kept my attention. Then there was a creative little ending, that could have been better, but closed the movie just fine. Quite a few things were wrong, though. Although there were a couple of characters who were familiar, there wasn't that one who stood out. Some of the dialogue was tacky. The thing that really made the movie fail was the lack of scares. Poorly done. They got the eerie feeling right, but they didn't follow through with making me jump. The, hands down, best thing about The Black Waters Of Echo's Pond was the cinematography and photography direction. Wonderfully done. It doesn't do exactly that much if you don't have either a top notch director or writer. If you're a horror fan, or want to see a near good movie, The Black Waters is worth seeing. Otherwise it's a near miss.
Jason Cenzano
Super Reviewer
The Black Waters of Echo's Pond Quotes
There are no approved quotes yet for this movie.