Blind Beast (Môjû)
(1969)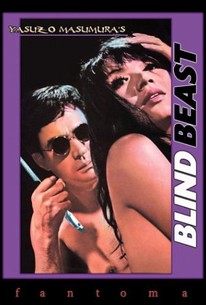 AUDIENCE SCORE
Critic Consensus: No consensus yet.
Blind Beast (Môjû) Photos
Movie Info
This sick and depraved scenario begins when a blind sculptor and his mother kidnap a young woman and use her as a model. In the darkness of an abandoned warehouse, she suffers at the hands of the artist. Giving in to find an avenue of escape, she becomes caught up in a series of sadomasochistic games. After she eventually loses her sight and her mind, the sexual games become even rougher. Whips are replaced with knives, which give way to meat cleavers, as the demented girl begs to have her arms and legs cut off. The girl ends up cut down to size after the mother dies over a battle with her son. He contemplates suicide when he realizes the girl can no longer give him a hand in this macabre tale that gives new meaning to the expression "tortured artist." ~ Dan Pavlides, Rovi
Critic Reviews for Blind Beast (Môjû)
All Critics (2) | Fresh (2) | Rotten (0)
Shining a flashlight on some murky corners of human sexuality, it's a continually astonishing piece of work - by the end you may feel somewhat dazed and bewildered.
Masumura is just the right director for this lurid tale about a psychopathic blind amateur sculptor...
Audience Reviews for Blind Beast (Môjû)
½
Yasuzo Masumura's "Blind Beast" is a wild, confrontational film in every way. Its small cast (only three actors) would be a radical enough move, even without the story's bold theme of sadomasochistic obsession. Aki (Mako Midori, also in Oshima's "Three Resurrected Drunkards") is a fashion model whose renown attracts Michio (Masumura favorite Eiji Funakoshi), a blind sculptor who compulsively crafts likenesses of beautiful women via exploring their curves with his hands. It's all part of his grand manifesto about a new form of art based on touch rather than sight. Armed with a delusional sense of purpose, Michio and his mother (Noriko Sengoku) kidnap Aki and imprison her in his studio as he prepares his ultimate masterpiece. Aki understandably treats him like a demented kook, but is gradually sucked into his quest. Her change of heart eventually turns rather implausible as the pair's relationship escalates into seriously twisted territory. "Blind Beast"'s unrelenting intensity and lack of variety (most of the action is one-on-one conversation between Aki and Elji) would be a chore if not for the film's secret weapon: its set. Imagine a large, darkened room where spotlit walls are covered with clusters of isolated body-part sculptures. Eyes, ears, mouths, noses, legs, arms, breasts...even navels. Meanwhile, two giant, headless bodies recline in the middle of the floor. Many crucial scenes occur with the two stars draped across these oversized female forms. Even if you forget this movie's premise, you'll never forget its decor.
Eric Broome
Super Reviewer
½
24/01/2011 (ONLINE) Didn't think I'd like this but I saw it to the end and was quite speechless, I did not expect that. A film that starts with an innocent habitual erotic fixation caused by blindness that slowly eventuates into a 'Romeo & Juliet' twist. I found it amusing as I thought how the Japanese twisted this pervading theme into 'so called' art, an excuse to entertain the flesh with hungry eyes. Very convincing performances and a fat dose of drama. Quite psychological and quite deceiving, who is bad? And even at one point I was hoping for the horrible to flourish and fulfill the evil task at hand, fruition in what is bad is what I kept hoping for but at the same time I was angry for having a twisted mentality where my wicked thoughts anticipated the next portion. This can be an incredible watch if you can tap into the minds of the characters and think for a moment, should I be understanding? A gloomy thought thickens the darkness while befriending evil for a taste of the devil's pie, truly, sex and beauty is never enough!
EightThirty .
Super Reviewer
½
With his devoted mother's assistance, a blind sculptor kidnaps a celebrated model in order to create his masterpiece. Combining a woman-in-peril story with an art/fashion backdrop, like many an Italian giallo before it and after, this weird but not particularly wonderful Japanese exploitation movie begins very creepily indeed: across an otherwise deserted gallery, a model surreptitiously observes a blind man exploring a nude statue of herself; unnerved by the delusional sensation of his hands touching her, she flees. Unfortunately, it's all downhill from there. The kidnapped model's attempts to turn mother and son against one another are reasonably entertaining but, I confess, my attention had wandered by the time Stockholm Syndrome and sadomasochism kicked in; notwithstanding the eye-popping art direction of the blind sculptor's studio, by the end of the movie I also felt I'd been held captive there, against my will, for an interminably long time. The narrative voiceover does not play fair and the subtitles on the version I watched contained some very awkward turns of phrase. Expect some twisted violence, mostly implied, and a lot of coy nudity.
Blind Beast (Môjû) Quotes
There are no approved quotes yet for this movie.