Blind Dating
(2007)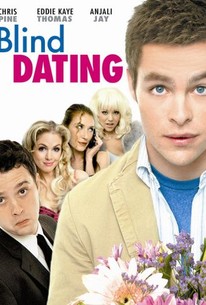 Movie Info
James Keach's romantic comedy Blind Dating concerns a 22-year old blind man named Danny (Chris Pine). Though Danny refuses to let his visual deficiency keep him from enjoying every aspect of life, he does shy away from women. When his brother Larry (Eddie Kaye Thomas) discovers Danny is a virgin, he makes every effort to lift that burden from him. Although a series of dates goes very wrong in a number of ways, Danny eventually meets a nurse (Anjali Jay), who agrees to go out with him, although her Indian family may prove a greater hindrance to their happiness than his medical condition. ~ Perry Seibert, Rovi
People Who Like this movie also like
Critic Reviews for Blind Dating
Audience Reviews for Blind Dating
If it weren't for Chris Pine's natural charm, this movie probably wouldn't have been half as good. I'm not usually a fan of romantic comedies, but I found that I really liked this one, for its main character as well as those around him. I really sympathized with Danny's desire to be independant and find love, and his blindness wasn't so much a physical handicap for him as it was a social handicap that influenced other people's treatment of him. There is also a parallel storyline of Danny volunteering to undergo experimental surgery that could potentiall grant him limited vision, but it takes a backseat to the romance story. The humour in this one is genuinely funny without being mean-spirited, and he ending, while unorthodox is both happy and satusfying.
Emily Armstrong
Super Reviewer
I really wish I could say this wasn't cheesy or lame, but it really is for the most part. The only redeeming quality is Chris Pine's really great performance. No one must have told him how dumb and ridiculous it was going to be because his character is really well developed and realistic. Now for a straight-to-video movie it's not the worst, but it just has all those stereotypical quirky moments that have long since been considered cute or even amusing.
Conner Rainwater
Super Reviewer
½
Nothing special about this movie, really I mean that... Chris Pine act's was sucks, he played a blind man who wasn't like a blind man... Even he walking as a straight man... It is true that some scenes made me laugh, but the whole movie just not that good... Just watch it in your spare time...
Sanjaya 丘耀文
Super Reviewer
Blind Dating Quotes
There are no approved quotes yet for this movie.