Blockers
(2018)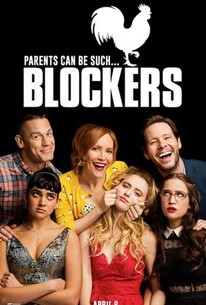 TOMATOMETER
AUDIENCE SCORE
Critic Consensus: Blockers puts a gender-swapped spin on the teen sex comedy -- one elevated by strong performances, a smartly funny script, and a surprisingly enlightened perspective.
Movie Info
When three parents stumble upon their daughters' pact to lose their virginity at prom, they launch a covert one-night operation to stop the teens from sealing the deal. Leslie Mann (The Other Woman, This Is 40), Ike Barinholtz (Neighbors, Suicide Squad) and John Cena (Trainwreck, Sisters) star in Blockers, the directorial debut of Kay Cannon (writer of the Pitch Perfect series). The comedy is produced by Seth Rogen, Evan Goldberg and James Weaver, under their Point Grey Pictures banner (Neighbors, This Is the End), alongside Jon Hurwitz & Hayden Schlossberg (Harold & Kumar series) and DMG Entertainment's Chris Fenton (47 Ronin). Good Universe's Nathan Kahane and Joseph Drake (Don't Breathe, Juno) executive produce with Chris Cowles (Collide) of DMG and Josh Fagen, Dave Stassen and Jonathan McCoy. The film is written by brothers Brian & Jim Kehoe, Hurwitz & Schlossberg and Eben Russell.
News & Interviews for Blockers
Critic Reviews for Blockers
Audience Reviews for Blockers
½
I LOVE C*CK - My Review of BLOCKERS (3 1/2 Stars) For me, comedies have it a lot easier than most genres when it comes to film criticism, because all of the other filmmaking elements such as cinematography, editing, and production design don't matter at all as long as people laugh. Look at CLERKS for example. It's complete lack of aesthetics meant nothing because audiences found it funny. Some of my favorite comedies of all time (WAITING FOR GUFFMAN, BEST IN SHOW, THIS IS SPINAL TAP) don't look like LAWRENCE OF ARABIA, but I don't care. The barometer remains simple. So it appears with BLOCKERS, a dopey teen sex comedy that truly made me laugh more often than not, despite a fairly pedestrian directorial style. It features fun, rich characters who pop, the requisite gross-out scenes we've come to know and love ever since Judd Apatow began insisting on bodily fluids flying everywhere in his comedies, and an unexpected and refreshing level of diversity. Debuting Director Kay Cannon (writer of the PITCH PERFECT movies) and screenwriters Brian and Jim Kehoe may color inside the lines of the comedy template, but they also have fun skirting across those edges at times in unexpected ways. The story centers around three lifelong teenaged friends who all vow to lose their virginity at the Senior Prom while their parents do everything in their power to stop them. Before you start f*cking an AMERICAN PIE, it's not as derivative as it sounds, because the writers have done a wonderful job of making us care about the daughters and their parents. Julie (THREE BILLBOARDS' murdered daughter Kathryn Newton) has the most conventional role as Lisa's (Leslie Mann) perennially texting, boy-crazy child, but she has a very sweet chemistry with both her mom and her boyfriend Austin (Graham Phillips). In the past, this mother-daughter team would be the white center around which every other character revolved. Luckily, the rest of the cast gets equal screen time, making this a true ensemble film. John Cena's big lug, Dad-joking Mitchell and his much smarter South Asian spouse Marcie (Sarayu Blue) have a delightful daughter Kayla (Geraldine Viswanathan, a true find). Athletic, articulate, funny, spirited and refreshingly horny as hell, she makes the most of her considerable screen time as she dates the school's man-bun-sporting drug dealer, Connor (a perfectly cast Miles Robbins who just looks like "that guy"). Watching her navigate drug use and sex with the zaniness of Jonah Hill while looking like a young Priyanka Chopra makes for a truly winning portrayal. Finally, we have the fantastic Gideon Adlon as Sam, who struggles with her lesbianism by going to the prom with a goofy beard while fawning over the more out and proud Angelica (SANTA CLARITA DIET standout Ramona Young). Angelica knows how to work glitter and a swooshing cape into the art of seduction and it's a joy behold. Sam's deadbeat dad Hunter (THE MINDY PROJECT's Ike Barinholtz) tries to make up for lost time with his daughter by joining Lisa and Mitchell on their all-night quest to c*ckblock their daughters. It's easy to check off the tropes in this film: - Vomiting scene - check - A crazy kegger - check - Stuff going up peoples' butts - check - Full Frontal Nudity featuring Gary Cole and Gena Gershon? - Check - Car crashes - check Yet, despite it fitting the pattern, I still managed to feel surprised. The car wreck, for example, has a delightfully vertical sight gag. John Cena plays to his strengths as a fun comedian in the way The Rock does so well, and he even manages to make the butt scene not homophobic, which almost NEVER happens in these types of comedies. Without spoiling anything, Leslie Mann has a great sense of physical comedy in her big hotel room scene, literally rising to the level of electric. You won't forget the big moment anytime soon, and I couldn't stop laughing. BLOCKERS also moved me. Leslie Mann has a way with her whiny monotone voice that draws me in when it could easily do the opposite. I felt for her as she lamented her upcoming empty nest life. I loved Ike Barinholtz's loveable idiot and the way he reacts to his daughter's sexuality should be taught in schools. Even though John Cena is a limited actor, he blended so well with his family, matching their crazy energy. It's no coincidence that a SIXTEEN CANDLES poster hangs in the background of a scene. BLOCKERS may not match that classic, despite the many problems with that film, but it comes pretty close to me, AND...I laughed more.
Glenn Gaylord
Super Reviewer
Blockers (nee Cock Blockers, and changed on some posters to appear like Rooster-Shape Blockers) is like getting two fairly funny sex comedies in one. We have the perspective of the panicked parents (Leslie Mann, John Cena, Ike Barinholtz) who are doing whatever they can to thwart their daughters from seeing through their presumed deflowering pact on prom night. We also have the horny teen perspective from the teen girls (Kaitlyn Newton, Geraldine Viswanathan, Gideon Adlon). Each group has their own character arcs and comic set pieces, flunkies and wild supporting characters, and as they criss-cross over the course of one debauched night, lessons will be learned and, more importantly, feel earned. I was steadily impressed with how much Blockers does and does well, chiefly maintaining a sex positive attitude and never supporting the parents in their hysterical, generally sexist alarm. Each parent has to confront their feelings about really letting their daughter grow up, and that relationship leads to a sweet moment for each to acknowledge the error of their ways and grow closer with their child. If this had come out in the 80s or 90s, I'm sure the film would have adopted the parental viewpoint as correct. Hell, if it came out in the 80s, the fact that one of the daughters is gay would have been a source of shock or shame. Today, the father already knows and supports his daughter being a lesbian (he frets she'll feel pressured to lose her virginity to the wrong sex). Oh, on top of all that, the movie is pretty funny from start to finish thanks to a deep cast of characters. Cena impressed with 2015's Trainwreck and he shows yet again the promise of his heretofore-untapped comic resources. There is one comic set piece involving blind couple foreplay that feels downright inspired as it develops. Blockers is a raunchy sex comedy with more on its mind than yuks. It's got a sweet center that allows the characters and their relationships to feel genuine. When you care about the people onscreen, it helps eliminate the sense of downtime. Nate's Grade: B
Nate Zoebl
Super Reviewer
About ten years ago, there wasn't a single argument that would sway me into believing that John Cena would work as a leading man in a comedy because even then he was average at best in some generic action films. Well, putting together the fact that I was seriously wrong about that and the fact that Blockers is actually one of the better comedies I've seen in quite some time, I was pleasantly surprised during my viewing of this movie. Don't get me wrong here; this is a movie with jokes and storylines that you've definitely seen many times in the past, but there's something special about this particular cast and the way this particular film is told that had me rolling on the floor on multiple occasions. If you're looking for a good comedy or quite frankly a solid little film in general, here's why Blockers earns a recommendation in my book. It's prom night and every teenager in the city is wondering how to plan or behave on their special night. Blockers picks up as these events are slowly heating up and follows three friends in Julie, Sam, and Kayla. They make an agreement to all have sex on prom night and their parents happen to see their entire conversation. Hell-bent on stopping this from happening, these parents begin to hunt them down, following their every move and antics begin to ensue. From family issues to personal fears with certain characters, there's more on the surface than just partying on prom night. There was heart put into certain aspects of this script and it definitely shows throughout the final act. John Cena, Leslie Mann, and Ike Barinholtz are all very well-cast as these over-protective parents and surprisingly I would put the asterisk on Barinholtz. I've seen him appear in comedies before, but he stole the show here in my eyes. Always being the voice of reason to the other parents, while also being the child on multiple occasions, this made for some very fun sequences involving these three. Cena and Mann are both funny here as well, but I feel like audiences have come to expect that from them by now. As far as negatives go, I have to admit that John Cena needs to stick to comedy, because his dramatic heart-to-heart moments with his daughter felt awkward, due to the fact that he's not really accustomed to anything outside of action or comedy. Every actor/actress plays off him well and brings out his strengths, but I sadly believe he will always be best suited as the stereotypical strong guy in action films or comedies. Sure, it's definitely possible that he improves over time, but I believe comedy is his sweet spot and that shouldn't change. In terms of the comedy itself, Blockers is the type of film that plans out its jokes and brings some of them full circle, which is what makes many great comedies classics. No, I'm not saying Blockers will become a classic because I can almost guarantee that it won't, but it has quite a few laughs in its arsenal that had me laughing pretty hard. I feel as though many other viewers will have the same impact, which is why I'm talking so highly about this film and not mentioning many negatives. In the end, Blockers suffers from being a movie with a familiar premise and not enough memorable lines to be quoted by audiences, but it has enough in-the-moment gags and emotional depth to make you care about everything and everyone when you're watching it. This film had the potential of being one of the worst comedies out there, but it's surprisingly one of the better ones I've seen in a while. For all these reasons and more, I think this movie is one that works for both teenagers and adults. Check out Blockers if you have the chance.
Blockers Quotes
There are no approved quotes yet for this movie.