Blockers
(2018)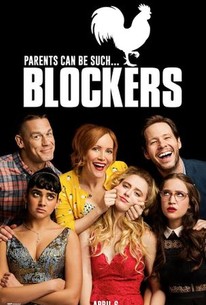 TOMATOMETER
AUDIENCE SCORE
Critic Consensus: Blockers puts a gender-swapped spin on the teen sex comedy -- one elevated by strong performances, a smartly funny script, and a surprisingly enlightened perspective.
Movie Info
When three parents stumble upon their daughters' pact to lose their virginity at prom, they launch a covert one-night operation to stop the teens from sealing the deal. Leslie Mann (The Other Woman, This Is 40), Ike Barinholtz (Neighbors, Suicide Squad) and John Cena (Trainwreck, Sisters) star in Blockers, the directorial debut of Kay Cannon (writer of the Pitch Perfect series). The comedy is produced by Seth Rogen, Evan Goldberg and James Weaver, under their Point Grey Pictures banner (Neighbors, This Is the End), alongside Jon Hurwitz & Hayden Schlossberg (Harold & Kumar series) and DMG Entertainment's Chris Fenton (47 Ronin). Good Universe's Nathan Kahane and Joseph Drake (Don't Breathe, Juno) executive produce with Chris Cowles (Collide) of DMG and Josh Fagen, Dave Stassen and Jonathan McCoy. The film is written by brothers Brian & Jim Kehoe, Hurwitz & Schlossberg and Eben Russell.
News & Interviews for Blockers
Critic Reviews for Blockers
Audience Reviews for Blockers
The interesting thing about Blockers is the biggest credit I can give to it is it's cast chemistry and it's surprisingly progressive views on sex. All of the people in the movie feel like actual humans with actual relationships. While the situations are extreme, their reactions all feel genuine. The three girls who make the pact actually feel like 3 girls who have been friends their whole lives, and the 3 parents actually feel like 3 parents with some degree of friendship but also a bit of a past. I liked how the parents were concerned around their kids but also unfiltered around each other, and I felt everyone reactions to the situations were real. And without getting into spoilers, while losing their virginity is the ultimate goal of the night for the girls and the parents ultimate goal is stopping it, the movie does go an interesting direction with the final resolution involving all parties that actually felt modern and real. Whereas something like American Pie feels like a male teenage fantasy of this sort of situation, Blockers actually feels like how it might actually play out with a few exaggerated situations, and I actually really respect the film for that. But is the film funny? Well...it's enjoyable enough to watch. I chuckled a few times, there were consistent smiles, and I enjoyed the journey. I guess there were some laughs, but as far as comedies go the laughs were actually pretty low. I'm ultimately giving Blockers a moderately positive rating because I really do respect what it was trying to do, and I did enjoy the experience overall with a wonderful cast to be around. But was it a laugh riot? Well, I'm sorry, no. There were some funny moments but not enough to give it true staying power as a great comedy.
Michael Malan
Super Reviewer
½
This film is good for some laughs, but it's ultimately just three C- to C+ comedic actors coming together with some okay young actresses to create a film that is exactly the sum of its parts. Even this film's biggest fans likely only enjoyed it to a certain degree. Mann, Cena and Barinholtz all have a certain chemistry, but overall this movie is very high floor, low ceiling, and forgettable in the end.
Sanjay Rema
Super Reviewer
Blockers (nee Cock Blockers, and changed on some posters to appear like Rooster-Shape Blockers) is like getting two fairly funny sex comedies in one. We have the perspective of the panicked parents (Leslie Mann, John Cena, Ike Barinholtz) who are doing whatever they can to thwart their daughters from seeing through their presumed deflowering pact on prom night. We also have the horny teen perspective from the teen girls (Kaitlyn Newton, Geraldine Viswanathan, Gideon Adlon). Each group has their own character arcs and comic set pieces, flunkies and wild supporting characters, and as they criss-cross over the course of one debauched night, lessons will be learned and, more importantly, feel earned. I was steadily impressed with how much Blockers does and does well, chiefly maintaining a sex positive attitude and never supporting the parents in their hysterical, generally sexist alarm. Each parent has to confront their feelings about really letting their daughter grow up, and that relationship leads to a sweet moment for each to acknowledge the error of their ways and grow closer with their child. If this had come out in the 80s or 90s, I'm sure the film would have adopted the parental viewpoint as correct. Hell, if it came out in the 80s, the fact that one of the daughters is gay would have been a source of shock or shame. Today, the father already knows and supports his daughter being a lesbian (he frets she'll feel pressured to lose her virginity to the wrong sex). Oh, on top of all that, the movie is pretty funny from start to finish thanks to a deep cast of characters. Cena impressed with 2015's Trainwreck and he shows yet again the promise of his heretofore-untapped comic resources. There is one comic set piece involving blind couple foreplay that feels downright inspired as it develops. Blockers is a raunchy sex comedy with more on its mind than yuks. It's got a sweet center that allows the characters and their relationships to feel genuine. When you care about the people onscreen, it helps eliminate the sense of downtime. Nate's Grade: B
Nate Zoebl
Super Reviewer
Blockers Quotes
There are no approved quotes yet for this movie.