The Bloodstained Shadow (Solamente nero)
(1978)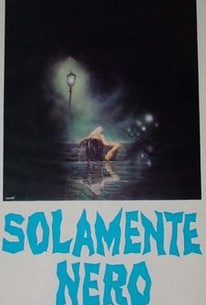 AUDIENCE SCORE
Critic Consensus: No consensus yet.
Movie Info
This well-handled giallo thriller was directed by Antonio Bido (Il Gatto dagli Occhi di Giada). After a young girl is murdered by a mysterious stranger, the young Stefano (Lino Capolicchio) comes home to Venice to visit his brother (Craig Hill), a priest with many enemies. As people start dying left and right, Bido introduces an odd assortment of characters, including a wife-killing doctor, an abortionist, and a nutty gay Count (Massimo Serato) who molests children. Stefano tries figuring out the mystery while having an affair with an interior decorator (Suspiria's Stefania Casini). It might be argued that the plot is merely a reworking of Lucio Fulci's superior Non se Sevizio un Paperino (1971), with shades of Capolicchio's previous starring turn in Pupi Avati's La Casa dalle Finestre che Ridono (1976), but in Italian genre film, the question of derivative plotlines becomes almost superficial. It works, and should please Euro-thriller fans.
Critic Reviews for The Bloodstained Shadow (Solamente nero)
Audience Reviews for The Bloodstained Shadow (Solamente nero)
½
A professor and his priest brother solve a plague of murders on an Italian island outside Venice. The kind of mystery where the screenwriter hides the identity of the killer by keeping any meaningful clues away from the audience for as long as possible, making it difficult to care about the story.
A priest who has witnessed a murder begins to receive threatening messages; his brother, a neurotic professor with a bad case of the flashbacks, investigates. I would only recommend this boring and utterly formulaic giallo to ardent admirers of Stefania Casini, who receives unusually high billing and a fair amount of screen time. A pity, then, that she's given nothing to do, and that some idiot thought it a good idea to straighten her wondrous red curls and dress her like a catalogue model for frumpy, middle-aged knitwear. The plot is ridiculous, the red herrings wouldn't fool an infant, the dialogue in the English language version is atrocious and the murder scenes lack flair. Although it smacks of filler, some of the wintry location photography around Venice is nice.
The Bloodstained Shadow (Solamente nero) Quotes
There are no approved quotes yet for this movie.