Blue Car
(2003)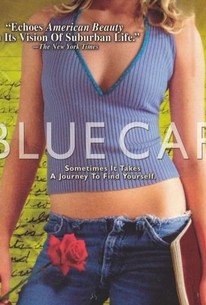 Movie Info
A young woman uses art to make sense of her anxieties in life, only to find that doesn't mean she can leave them behind, in this emotional drama. Meg (Agnes Bruckner) is a bright but troubled teenager who has essentially been forced into the position of head of the household; her father has abandoned the family, and her mother (Margaret Colin), struggling to support two children, has emotionally shut herself off from her daughters, leaving Meg to raise her younger sister Lily (Regan Arnold). Meg has a talent for writing and a desire to become a novelist; one of her teachers, Mr. Auster (David Strathairn) senses Meg has talent as a poet, and encourages her to write verse. With her dysfunctional family providing inspiration for her work, Meg finds that poetry gives her a voice to communicate her unhappiness at home, and Auster urges her to continue with her work, helping to enter her work in a competition for young poets. Meg's work is accepted into the finals, but her situation at home grows steadily worse; Meg's mother has become openly combative with her, and Lily is beginning to collapse from the strain. Forbidden by her mother to attend the final readings for the poetry competition, Meg sneaks off and travels to Florida with Auster, only to discover he carries a full load of emotional baggage himself. Blue Car was the debut feature from writer and director Karen Moncrieff; it won an enthusiastic reception in its screenings at the 2002 Sundance Film Festival.
People Who Like this movie also like
News & Interviews for Blue Car
Critic Reviews for Blue Car
Audience Reviews for Blue Car
Karen Moncrieff is the best American filmmaker you've never heard of. It's ridiculous that her work is so little talked about. "Blue Car," her first film, at times borders on greatness. It drifts into pretentiousness and preciousness one too many times, but for a filmmaker to get close to greatness her first time out is nothing short of amazing. (Moncrieff, I should point out, got even closer to greatness with her second film, the bizarrely under-rated "The Dead Girl," which I consider the second-best film of 2006, after Darren Aronofsky's "The Fountain.") "Blue Car" tells a delicate story of an exceptionally bright teenage girl cast adrift by a self-absorbed mother who barely notices when she's in the room. The girl retreats into herself, explores sad memories of being abandoned by her father, and ends up penning poetry that dazzles and frightens her intelligent but lonely English teacher (played beautifully by David Strathairn.) He volunteers to coach her after school to develop her poetry even further, and so begins a journey that sometimes is too beautiful and too painful for both of them. The film gets sidetracked into a separate drama concerning the girl's younger sister, which weakens the film and makes its sadness a bit over-thick. But the journey of discovery that the girl and man go on is at times the stuff of great literature. Actress Agnes Bruckner gives a breakthrough performance as the girl, and it is beyond belief that she wasn't nominated for an Oscar. Her work is so good that I venture to say that hers is the best teenage acting performance of the decade. "Blue Car" helps to remind us how life-changing and essential friendships between teenagers and adults can be -- but also how overwhelming and destabilizing they can be. As tough as these relationships are -- for both parties -- they are often the crucible in which new life, and new art, is born.
William Dunmyer
Super Reviewer
Incredible, powerful, and extremely sad, one only hopes that the strength that Meg (Agnes Bruckner) finds at the end is enough to carry her through. My heart broke for her. A child of divorced parents who don't get along, Meg is ignored by her father and taken for granted by her mother. Meanwhile, her sister is losing touch with reality and the mother is oblivious to the warning signs until it is too late. All of this makes Meg easily susceptible to the attentions of her AP English teacher (David Strathairn), whose intentions may have been honorable at first, but who ultimately takes advantage of her vulnerability and betrays her trust. All of this however inspires her to a new honesty in her art and forces her to take stock of her life and hopefully begin again. Ms Bruckner gave her character just enough Lolita to make the May-December thing believable. Her need to be taken seriously and for acceptance blinded her to the dishonesty of others and made her susceptible to numerous betrayals. Don't believe the marketing hype. This is no teen sexploitation film. It is a tender, well done, coming of age film about a young poet finding her voice through layers upon layers of tragedy.
Mark Abell
Super Reviewer
Okay, so are all English teachers this, uh, disturb . . ed . . . ing? Let us hope not. Yikes! David, you are well-done creepy here, buddy. Yes, quite an unsettling performance from David Strathairn as the, uh, overly supportive English teacher. No doubt, however, that this is Bruckner's film. A very genuine emotional portrayal of a young woman struggling to cope with -- and because of -- her dysfunctional family.
Lanning : )
Super Reviewer
Blue Car Quotes
There are no approved quotes yet for this movie.