Blume in Love
(1973)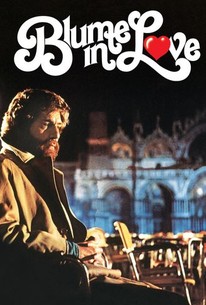 Movie Info
In the Los Angeles of yoga, therapy, and well-off liberals, a divorcé decides that his ex-wife is the love of his life in Paul Mazursky's romantic comedy. Beverly Hills divorce lawyer Stephen Blume (George Segal) becomes his own client when his social worker wife Nina (Susan Anspach) throws him out for sleeping with his secretary. Only then does Blume realize that he can't live without Nina, even though she seems fine without him, and he has a new sex partner in divorcée Arlene (Marsha Mason). So what does he do to win Nina back? Befriend her laid-back musician beau, Elmo (Kris Kristofferson), show up at her house with breakfast bagels, eavesdrop on her therapy sessions, and forcibly impregnate her, of course. Banished to their former honeymoon site in Venice, Italy while Nina thinks things over, Blume reflects on his past and his obsession, as he dreamily hopes for the best. Cutting between Blume's musings on love and loss in Venice's Piazza San Marco and the events in L.A. that brought him there, Mazursky humorously yet sharply dissects the complications of marriage in the let-it-all-hang-out Me Decade of the 1970s. Blume and Nina face the same dilemma as the couples in Mazursky's 1969 hit Bob & Carol & Ted & Alice: how to mesh traditional vows with the new freedom and its temptations. In this case, it takes a divorce to convince the solipsistic Blume that the woman he wants most is his own wife. Considered by some critics one of the decade's best interrogations of contemporary coupledom, Blume in Love astutely captured the absurdity of Blume's self-involved romantic quest, while slyly celebrating the operatic spirit of love that drives him.
Critic Reviews for Blume in Love
Audience Reviews for Blume in Love
½
Pretentious bit of navel gazing is slow moving but okay until Segal's character crosses a line from which the movie never recovers. Marsha Mason is good in a secondary role.
[font=Century Gothic]"Blume in Love" starts in Venice where divorce lawyer Stephen Blume(George Segal) is ruminating about his 6-year marriage and divorce to Nina(Susan Anspach), a social worker, and wonders where it all went wrong. Could it be right at the end when he did the cliched thing by having sex with his secretary, Gloria(Annazette Chase), which is followed by Nina tossing him out on the street? After a quickie divorce in Las Vegas, Blume runs into Arlene(Marsha Mason), an attractive acquaintance, who is also divorced. It is not long before they are having sex, too.[/font] [font=Century Gothic]Written and directed by Paul Mazursky, "Blume in Love" is an unsettling, honest and eventually disturbing movie about love and marriage in modern day America. It may appear on the surface that Blume and Nina have vastly different jobs but maybe Blume is also aiding people by helping them to get out of bad marriages. In fact, the movie's central point is to find your own way, and that may not always mean marriage. In the 1970's people were exploring themselves in novel ways which is what Nina is attempting to do but Blume is too square to keep up.(He has a habit of returning to Venice. It does seem beautiful but still...) After the marriage is over, Blume tries to move on and try new things but love does not end simply at a divorce. So, he obsesses madly.[/font]
Blume in Love Quotes
There are no approved quotes yet for this movie.