Bob & Carol & Ted & Alice
(1969)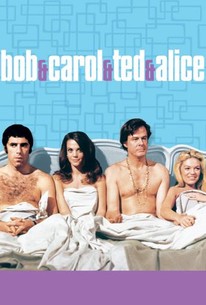 Bob & Carol & Ted & Alice Photos
Movie Info
Taking sharp, right-on satirical jabs at the late-'60s vogue for wife-swapping and the spouting of vague psycho-babble, this notorious (in its time) sex comedy, set in California, tells the story of four friends who decide to cut loose and experiment with sexual freedom. Bob and Carol consider themselves a free-thinking modern couple in step with the times. Both freely see other lovers and even smoke a little dope. Their closest friends are the stuffy Ted and Alice who cannot understand the free-wheeling ways of Bob and Carol who in turn cannot understand why Ted and Alice are always so uptight. The erotic hijinks begin when the four friends attend a special sex workshop and decide to try their hands at a foursome.
News & Interviews for Bob & Carol & Ted & Alice
Critic Reviews for Bob & Carol & Ted & Alice
Audience Reviews for Bob & Carol & Ted & Alice
½
This was the first film to really delve into the world of free love in the sixties, while also showing its appeal to the suburban set. Couple Bob and Carol see their sex life becoming uninhibited after a weekend romp with other love minded people, and decide that the act of sex doesn't need to have ties to love. Soon after they come home, they start to engage in casual sex with strangers. Their friends, Ted and Alice, watch them with prejudice, as many couples did at the time of the sixties' sexual revolution. Paul Mazursky is the writer/director of this film, and he does a great job of molding characters so that we see their complete transformations throughout the course of the film. While Bob and Carol both find the freedom enlivening, there's still jealousy and thoughtfulness in their relationship, and the always present proclamations of love. Though each of them feels themselves changing, we see their roots as a married couple and also Ted and Alice, as they come to understand and even accept their friend's new lifestyle. The characters were extremely engaging, and every relationship shown in this film felt real and authentic. As a character study it works perfectly, but works as a time capsule for the sixties.
Spencer S.
Super Reviewer
½
A husband and wife, returning from a New Age retreat, entice another married couple to join the Sexual Revolution, replete with infidelity and orgies. Half satire, half honest social documentary, Paul Mazursky's brilliant and funny portrayal of late sixties era swingers walks so many fine lines between ridiculous and believable and character study and caricature study that his work bespeaks remarkable intelligence. It's hard to classify this film because it "swings" so deftly between genres and characterizations -- a remarkably flexible film. The performances are all incredible. Natalie Wood, playing against type, contrasts the natural innocence of her face and demeanor with the sexual freedom of her character, and I can't help but repeat: if there is a heaven and it doesn't involve being loved by Natalie Wood, I'll be disappointed. Overall, Bob & Carol & Ted & Alice both reveres and lampoons the late sixties and serves as a monument to the talents of its contributors.
Jim Hunter
Super Reviewer
See what happens when two couples try to live the late 60s early 70s lifestyle of free love and wife swapping, only to learn the consequences in the end. It's a great story, and there are great actors in it too. I highly recommend it.
Bob & Carol & Ted & Alice Quotes
There are no approved quotes yet for this movie.