Bodyguards and Assassins (Shi yue wei cheng)
(2010)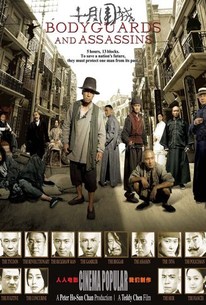 AUDIENCE SCORE
Critic Consensus: No consensus yet.
Bodyguards and Assassins (Shi yue wei cheng) Photos
Movie Info
Donnie Yen and MMA fighter Cung Le star in this gripping martial arts blockbuster set in the bustling metropolis of Hong Kong in 1905. The revolutionary movement has spread throughout China, but the corrupt Qing dynasty will do anything to hold on to its power. As Sun Yat-Sen prepares for a historic meeting that will shape the future of the country, a motley crew of men and women are entrusted to protect him from a group of deadly assassins who will stop at nothing to kill him. Winner of eight Hong Kong Film Awards, including Best Film, and featuring an hour-long battle sequence unlike anything attempted before, it's a pivotal action epic that's being hailed as "a satisfying mix of politics, personal sacrifice and death-or glory combat" (Richard Kuipers, Variety). -- (C) Indomina
Critic Reviews for Bodyguards and Assassins (Shi yue wei cheng)
All Critics (3) | Fresh (2) | Rotten (1) | DVD (1)
For Occidental eyes, 'Bodyguards and Assassins' is more of a playful recreation of history than anything else.
A group of politically active citizens led a campaign to protect revolutionary leader Dr. Sun Wen from Qing assassins. That means I get to see Asian dudes kick each other.
With its stirring dramas, riveting suspense and engaging performances, Bodyguards and Assassins focuses on a tiny moment in time to suggest that we are all in fact part of an ongoing revolution.
September 5, 2010
Audience Reviews for Bodyguards and Assassins (Shi yue wei cheng)
Is there such a thing as a historical-political-martial arts-thriller? If there wasn't before, there is now. Bodyguards and Assassin's is about a group of people struggling to protect a man crucial to the rebellion against the Qing Dynasty from a group of assassins sent to kill him. Great cast and the last part of the movie is pretty amazing, but I found a lot of the first half to be boring. Maybe that's because I'm not familiar with the actual history behind the story, but Bodyguards & Assassins was just an "okay" movie to me.
½
My husband would tell you that he sat through the drama to get to the really good action parts. I loved the whole package. Excellently done!!
Cynthia S.
Super Reviewer
½
Highly awesome period action Hong Kong film. Powerful, logical and heartbreaking. This is about the assassination attempt of Dr Sun Yat Sen in Hong Kong. The first hour of this movie is entirely about setting up the characters, making you understand them and care about them. I really enjoyed this film has avoid to use mindless clichés, like ultimate fight of good vs. evil. Five 'bodyguard' characters were very brave for their life to fight over a group of assassins to protect the revolutionary Dr Sun Wen. The acting is excellent all around, many of the actors are major stars, such as Donnie Yen, Nicholas Tse, Leon Lai, and Tony Leung Ka-Fai, but the film is an ensemble piece and each star disappears into their character, many of whom are playing against type. The action is top notch, as expected with Donnie Yen's involvement. Yen has a brutal fight with Cung Le that involves some very nice choreography and some parkour action as well. Set, editing, camera work, action direction all become an integral part of this top-notch motion picture, which must be recognized as among the very best of Chinese language motion pictures in recent memory. I highly recommend this one.
Dean McKenna
Super Reviewer
Bodyguards and Assassins (Shi yue wei cheng) Quotes
There are no approved quotes yet for this movie.