The Bonfire of the Vanities
(1990)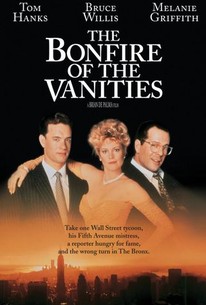 The Bonfire of the Vanities Photos
Movie Info
Brian De Palma's Hollywood sanitization of Tom Wolfe's scabrous satire stars Tom Hanks as Sherman McCoy, the "master of the universe," a shallow Wall Street investor who makes millions while enjoying the good life and the sexual favors of Maria Ruskin (Melanie Griffith), a Southern belle golddigger. Sherman and Maria are driving back to Maria's apartment from the airport when Maria takes a wrong turn on the expressway and the two find themselves in the South Bronx. She sees a black youth approaching Sherman's car and Maria, frightened, guns the engine, running over the teenager and killing him. The two drive away and decide not to report the accident to the police. Meanwhile, indigent alcoholic journalist Peter Fallow (Bruce Willis), anxious for a story to make good with his editor, comes upon the hit-and-run tale through local black community activist, Reverend Bacon (John Hancock). Bacon plans to use the hit-and-run case as a rallying point for the black community, while Fallow recognizes the press coverage inherent in prosecuting the callow Sherman. As Sherman is brought to his knees, the New York community fragments into different factions who use the case to suit their own cynical political purposes. Finally, Sherman is left without any allies to support him except for the sympathetic Judge White (Morgan Freeman) and the remorseful Fallow. ~ Paul Brenner, Rovi
People Who Like this movie also like
Critic Reviews for The Bonfire of the Vanities
Audience Reviews for The Bonfire of the Vanities
From Brian De Palma comes the satirical comedy The Bonfire of the Vanities. Based on an acclaimed novel, the story follows a Wall Street bond trader who's involved in a hit and run accident that becomes sensationalizes by a muckraker journalist. The cast includes Tom Hanks, Bruce Willis, Melanie Griffith, and Morgan Freeman, who all give solid performances. However, the tone of the film is inconsistent, as is the humor; it's not dark enough to be a dark comedy and it's not goofy enough to be a screwball comedy. Yet The Bonfire of the Vanities delivers some good laughs and is an enjoyable film overall.
Dann Michalski
Super Reviewer
½
Bonfire of the Vanities is not the tumbling shit-fest you've been told it is. In fact the film is pretty funny and shot really nicely. It's not without it's flaws, Hanks is a bit mis cast and Kim Cattrall is downright terrible. It's no American Psycho, but if you're in the mood for a bit of 80's satire, I'd say check it out.
Ken Stachnik
Super Reviewer
In no way is it the disaster that most people claim it to be. In fact, it's actually a very well done criticism of the 80s yuppie lifestyle as well as racism, sex and politics. You have to feel sorrow for Tom Hanks' Sherman McCoy, who accidentally gets himself into the biggest scandal of the time. While he might be prejudiced, in no way does he deserve to be put through all the anguish that he is subjected to. I love the idea of the Jewish District Attorney trying to win the minority vote by charging an innocent man as well as his assistant who has no shame in getting all the false evidence he can gather. Melanie Griffith was amazing as an incredibly over the top seductress and Bruce Willis plays a great drunk. Brian De Palma does a great job creating a captivating set of shots that are both original and fun to watch.
Conner Rainwater
Super Reviewer
The Bonfire of the Vanities Quotes
There are no approved quotes yet for this movie.