Boogeyman 3
(2008)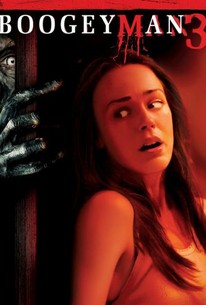 AUDIENCE SCORE
Critic Consensus: No consensus yet.
Movie Info
A college sophomore faces an unspeakable horror after witnessing the alleged suicide of her best friend as the saga that begin in the 2005 chiller Boogeyman continues. When Sarah Morris saw her best friend take her own life, she unwittingly opened herself up to the wrath of the dreaded Boogeyman. Her dorm-mates thing she's crazy, but Sarah knows that the Boogeyman is real. Later, Sarah's friends begin to pay the ultimate price for their disbelief as the ultimate evil descends upon the entire campus. Now it's not just a matter of if the Boogeyman will get them, but when.
Critic Reviews for Boogeyman 3
There are no critic reviews yet for Boogeyman 3. Keep checking Rotten Tomatoes for updates!
Audience Reviews for Boogeyman 3
I really don't know why they made a third film in this series. The second was bad, and the first was pretty good. I guess it's all about the money. With this film, the filmmakers don't try to do anything new. The film has a tired out, overused formula that just isn't interesting. The film is a mess, nothing stands out, and it's simply a poor effort on those involved. The film is tiresome, unimpressive and dull. The cast here are horrible and what's very surprising to me is that Kate Maberly starred in this, and who normally is a great actress (Secret Garden), this film is a poor attempt at delivering effective4 horror, and continuing a series that never should have been. I think that Boogeyman never needed a sequel and it was perfect the way it was. This film is horrible with no redeeming qualities about it. Boogeyman 3 is a poorly constructed film that just doesn't have anything good going for it. The film is a mess and if you're looking for an entertaining horror flick, skip on this one because you won't find it here. This is straight to DVD garbage that doesn't deliver. The only thing that this film is good for is to waste your time, and that's not a compliment. This film suffers from a bad script, bad cast and poor directing. The film is a mess from start to finish and isn't worth anyone's time. There are better horror flicks out there, and you can't expect much from a film that has gone straight to DVD. Let's hope that this is the last in the series.
Just another teeny bobber horror movie. Don't know how it made Screamfest 2008. 2 Stars
Bruce Bruce
Super Reviewer
Much, much better than the first two films. Boogeyman 3 returns to the supernatural elements of the first film whilst tying in plot strands from the second. In a nice, and much improved, stylistic choice, the Boogeyman is now supernatural, but physical, not CGI. It works so much better. The film has some interesting concepts on fear and legends, though most of this can be taken from The Nightmare on Elm Street series. Despite an almost brave ending, it can't quite push the sacrifice through til the end. It's the clichéd slasher style deaths that break up the narrative, it could have kept things so simple. Some nice jumps, even if the scares aren't long lasting.
Luke Baldock
Super Reviewer
Boogeyman 3 Quotes
There are no approved quotes yet for this movie.