Brain Dead
(2007)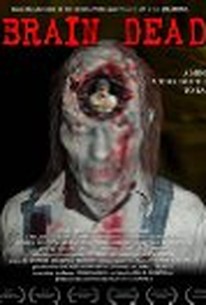 AUDIENCE SCORE
Critic Consensus: No consensus yet.
Movie Info
An alien parasite hungry for human hosts... The infected rising from the dead, ravenous for brains... A group of desperate misfits battling for survival... SOMEONE HAS A REALLY BAD TRAVEL AGENT!
Critic Reviews for Brain Dead
All Critics (1) | Fresh (0) | Rotten (1)
Wears out its welcome well in to its set up and with horrific writing, terrible humor, painful writing, and a rather jumbled villain...
Audience Reviews for Brain Dead
½
A rather poor, very low budget, comedy horror. It's very gory in places and the effects on the shoe-string budget are pretty good. The first third of the film isn't too bad, introducing some odd characters, a few gory scenes, plenty of B-Movie sillyness and nudity. Once they all get to the cabin though and try and hold out as long as the can it becomes rather boring and by the numbers. Watch only if you like odd B movie horror films or enjoy gore effects.
½
When a two convicts, two hikers and a preacher with a girl he is traveling with all end at the same cabin cause they are either hideing out lost or there car broke down they never expect that a Alien Mutant that is infecting people by eating there brains would show up at the door and now they all much try and survior before they get eaten too. I found this movie really good it started off kinda cheesy and made me think it was gonna just be really bad and have a dumb script but it turned itself around into a good Horror movie that also has some humor to it should be given a shot atleast once.
Gore galore (though it does put itself in the line of fire by using the same title as Peter Jackson's classic) and stupid characters doing stupid things make this a great watch that seems to transport you back to the eighties. Heck, if I was told that this film was from the eighties I would have no problem believing it. A lead character who is written to be charming and funny but has all the charisma of a doctor telling you that you have cancer, and an ensemble cast of characters that seem like they were taken when someone raided a softcore porn set. The story is something you've seen a million times before, a bunch of folks lock themselves up to fight an outside force, but I'm cool with that. Hell, I'm willing to watch that concept a million more times as long as it's done in a fun or scary way (don't be mistaken though, there is nothing scary about this one). Recommended as a decent way to get a gore fix and cheap laughs.
Christopher Brown
Super Reviewer
Brain Dead Quotes
There are no approved quotes yet for this movie.