Brawl in Cell Block 99
(2017)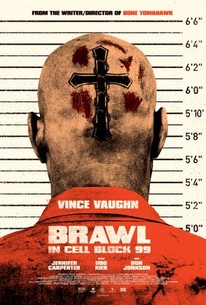 TOMATOMETER
AUDIENCE SCORE
Critic Consensus: Brawl in Cell Block 99 rides a committed Vince Vaughn performance into the brutally violent -- and undeniably entertaining -- depths of prison-set grindhouse genre fare.
Brawl in Cell Block 99 Videos
Brawl in Cell Block 99 Photos
Movie Info
A former boxer named Bradley loses his job as an auto mechanic, and his troubled marriage is about to expire. At this crossroads in his life, he feels that he has no better option than to work for an old buddy as a drug courier. This improves his situation until the terrible day that he finds himself in a gunfight between a group of police officers and his own ruthless allies. When the smoke clears, Bradley is badly hurt and thrown in prison, where his enemies force him to commit acts of violence that turn the place into a savage battleground. From the director of Bone Tomahawk, Brawl in Cell Block 99 stars Vince Vaughn (Hacksaw Ridge), Jennifer Carpenter ("Dexter"), Udo Kier (Blade) and Don Johnson ("Miami Vice").
News & Interviews for Brawl in Cell Block 99
Critic Reviews for Brawl in Cell Block 99
Audience Reviews for Brawl in Cell Block 99
½
They don't make 'em like this anymore! Brawl in Cell Block 99 is not just the best of Vince Vaughn's career, it's also one of the best movies of the year. Not for the faint of heart, but something that will stay with me for a long time to come.
½
The film is at it's best when it indulges in it's little digressions and oddities (Vaughn tearing a car apart with his bare hands, Fred Melamed's cameo as a snooty prison guard, Don Johnson's monologues, etc.) Some of the brutality is a bit much, but it's thankfully brief.
Alec Barniskis
Super Reviewer
½
(3 1/2 Stars) Brawl In Cell Block 99 is what Vince Vaughan's character in True Detective should have been. Director Craig Zahler dips into a macabre once again, like he did for Bone Tomahawk, to offer us another slow, mostly methodical dive into the depths of prison hell. While the first hour or so is a true slog, the back half of the movie picks up the pace to deliver an entertaining, gruesome, and violent peek into the underbelly of Cell Block 99. Vaughan's committed performance (and one of his best since Hacksaw Ridge) keeps this movie from folding over on itself. We aren't given much by way of character background; only character development. Who this man was and how he came to be with that giant cross tattooed on the back of his head is of no importance to Zahler. No matter how interested you are in Bradley Thomas, what you see is really what you get. But that's just enough to keep you rooting for his character. Everyone else was a passenger on Vaughan's ride, though it was nice to see Jennifer Carpenter in something. As for the grindhouse of it all...while the effects were certainly sloppy and more accustomed to a 1970's or 1980's zombie flick, the brutality of it all was on full display. It felt like much of the hand-to-hand combat was moving in slow motion for a purpose. Zahler designed this to specifically showcase just how much of a tank Thomas was supposed to come across. Not for the squeamish. While critics have lauded the 2nd offering from Zahler, I can't help but fall more in line with the audience of seeing a movie with two distant parts instead of one cohesive project. The time spent outside the prison dragged and conversations felt longer than necessary. To say there was too much dialogue in a film with what felt like only 100 words to begin with seems like a disservice. In the prison things changed, and when Vaughan lets his fists do the talking...only then do we really have something worth watching.
Lane Zieben
Super Reviewer
Brawl in Cell Block 99 Quotes
There are no approved quotes yet for this movie.