Breakup Buddies
(2014)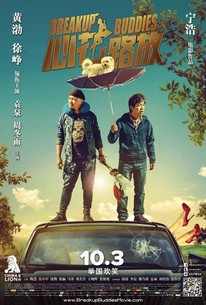 AUDIENCE SCORE
Critic Consensus: No consensus yet.
Movie Info
When a has-been singer (Huang Bo) suffers an emotional breakdown after a painful divorce, his best friend (Xu Zheng) takes it upon himself to reinvigorate his life, which starts with breaking him out of an asylum then going on a cross country tip to cruise for the right woman to forget his troubles. From Beijing to Dali, a wild and crazy ride ensues! (C) China Lion
Audience Reviews for Breakup Buddies
It's so weird to see a comedy that completely misses the mark as much as this one that also, by the end, has some pretty insightful things to say about marriage, divorce and the experiences that both things bring, whether painful or joyful. It's not that this film was ever bad, though I think its approach certainly needed work, but it's just painfully unfunny. To some people that would equal a bad movie, but it doesn't, at least in my view. Cause some comedy films offer so much more than just laughs. I liken this film to 50/50 without the cancer elements. I realize this is a poor comparison, considering that I absolutely adored, but the idea is similar. Guy sees that his best friend is going through a rough time, so he tries to get his friend out of this slump by trying to fix him up with various women. In 50/50, however, this is handled in a really poignant manner, where it was just that Seth Rogen, who's trying to get Joseph Gordon-Levitt, his best friend to be cheerful in the face of something as serious as spinal cancer and in this movie it's just used as an excuse to shoot some unfunny skits. Like there's no real sense of connection or friendship between Zheng Xu and Bo Huang, the leads in the film, and I blame the writing for this. By and large, the leads in the film are presented as really unlikable to be honest. Bo, the has-been singer, for being an asshole to almost everyone he meets and Xu, the best friend, for kind of being a sexist pig. And this is a problem in characterization, cause I've seen Bo Huang numerous times before and he's a really talented actor, particularly at comedy and Zheng Xu I've seen only once before, that I remember, but I can't recall if he is any good or not, so I tend not to blame the cast for that, they were just doing what they were told. So you have two incredibly unpleasant characters and you're watching them in an unfunny comedy, that's just a real bad combination. It makes watching this movie, not necessarily a chore, but something I just wish I wasn't doing. There's also a female character, a 'always a bridesmaid never a bride' type, who's travelling to Dali to get a renewed sense of purpose. And they show you these two journeys and you're kinda curious how they come together in the end and that is, actually, one of the better things about the movie, how they go about telling this story thinking it's from one perspective when really it's from another and I really liked it, because it's one of the few things that the movie gets right. The third act of the movie is also the funniest. Those were the only moments in the film that earned a legit laugh. And here's the thing, there's actually a good idea here, but there's a good idea here for a drama and not necessarily a comedy. A man who's slowly unraveling as a result of his divorce and you get to see how he gets lower and lower and even more pathetic as the film progresses. Like he's trying to get out of the shadow that was his divorce and trying to get into the light. As cliche as that sounds, it's one of the film's themes. It's not a world changing idea, but it is a good one and it might've been a good movie if it was a drama instead of a comedy. But the thing is that, I'm sure, this was supposed to be a drama as well. Sadly, though, the movie is too goofy to be dramatic and too dramatic to be goofy, if that makes sense. There's some clear identity issues here. I know two stars is a bad rating to some people, but it's not to me. I mean it is a 4 out of 10 if you really think about it, and that's not very good. But, to me, two stars means that the movie may not be good, but at least it's watchable and you're able to get through it without much problems. I'm afraid to say, however, that that's not the case in this movie. This is a bad movie that's slightly elevated by a surprisingly good third act. But it's simply not enough to elevate what is one of the more unfunny comedies I've seen in a while. I can't exactly recommend it, but at least the third act actually does something worthwhile. There's better stuff out there for you to watch.
Jesse Ortega
Super Reviewer
Breakup Buddies Quotes
There are no approved quotes yet for this movie.