Brilliant Lies
(1996)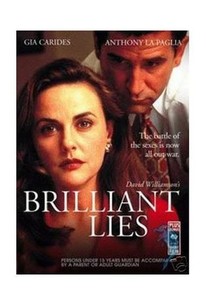 AUDIENCE SCORE
Critic Consensus: No consensus yet.
Movie Info
It begins as a seemingly cut and dried case of sexual harassment, but the more the conciliator assigned to the case investigates, the more obvious it becomes that either or both side is lying. Based on the premise that survival and success in the '90s is largely based on one's ability to lie brilliantly, the Australian drama follows the ins and outs of a very complex case that begins when recently fired Susy Connor files a formal complaint with the Anti-Discrimination Tribunal about an alleged incident in which her employer Gary Fitzgerald grabbed her breasts, whispered suggestive things in her ear and showed her his genitals while working late one night. The married Fitzgerald calls her a liar. Marion is called in to mediate and find the truth. Both parties have creditable character witnesses, and at the same time, both have gaping holes in their stories. Susy's witness is her sister Katie, whom she claims she told all about the upsetting incident. Unfortunately, Susy never said a word and still expects Katie to lie. On the other hand, Gary's witness Vince, his partner, knows that his friend is a notorious womanizer and strongly suspects that Susy tells the truth. Susy, herself, with her sexy dressing, provocative ways and her openness about an active sex-life has the advantage of being a woman as Gary is famed for his macho posturing around the office (a trait that in the hyper-sensitive '90s automatically makes him guilty of lechery).
Critic Reviews for Brilliant Lies
Audience Reviews for Brilliant Lies
½
A fine Aussie drama tale of a sexual harassment in which a secretary suing for wrongful dismissal and her macho ex-boss both appear to be unscrupulous liars.
Dean McKenna
Super Reviewer
Brilliant Lies Quotes
There are no approved quotes yet for this movie.