Broadcast News
(1987)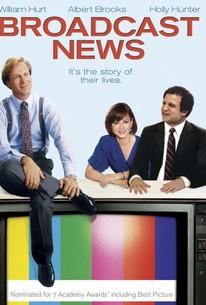 Movie Info
Writer/director/producer James L. Brooks scores on all counts with this clear-eyed look at the television news business and the dysfunctional types who work in it. Brooks' intelligent script introduces us to Jane Craig (Holly Hunter), an ambitious producer at the network news division's Washington D.C. branch, who is calm under fire yet has a good cry at her desk every morning over her empty personal life. Jane works well with Aaron Altman (Albert Brooks), an excellent reporter who lacks the visual charisma to make him a star. Into their lives comes Tom Grunick (William Hurt), a regional newscaster who admits he can't write news and doesn't understand many of the events he's covering, but has the presence and physical appeal that the increasingly entertainment-oriented network wants for its news programs. Jane is also physically attracted to him, which drives her crazy, because Grunick stands for everything she's fighting against in the news business, while Altman is devastated by her attraction because he secretly yearns for Jane. As Grunick becomes a rising star at the network, and layoffs of the old guard loom, the three leads deal with their feelings for each other, their careers, and their values. Hunter, Hurt, and Brooks are all superb, as is the excellent supporting cast (including an unbilled turn by Jack Nicholson as the network's smarmy national anchor). Brooks' script is funny, poignant, gritty, and brutally honest in its examinations of the television industry and the ways in which professionals interact on and off the job. ~ Don Kaye, Rovi
News & Interviews for Broadcast News
Critic Reviews for Broadcast News
Audience Reviews for Broadcast News
I saw all the great reviews but I did not feel this film was particularly amazing.
½
A very entertaining, extremely well-written and acted look at a news team and how dedicated they are to their jobs, as well as how they interact with each other outside of the office. Director/writer James L. Brooks does a near flawless job detailing each one of his characters, such as the up and coming lead anchor (William Hurt), the cute but insecure producer (Holly Hunter), and the talented but looked over reporter (Albert Brooks) who is hopelessly in love with her. The clichéd "love triangle" is actually handled meticulously well, with certain angles being thrown in that I have not seen before. But it is really the fantastic writing and the use of an overlooked detail in the story that changes everything that makes this movie all the more special. The performances are all outstanding, and the pace of the film is exceptional as it moves along with breathless ease. Highly recommended.
Dan Schultz
Super Reviewer
½
Network in the 80's without the RAGE!
Lenny Muggsy
Super Reviewer
Broadcast News Quotes
| | |
| --- | --- |
| Paul Moore: | It must be nice to always believe you know better, to always think you're the smartest person in the room. |
| Jane Craig: | No. It's awful. |
| | |
| --- | --- |
| Young Tom: | What can you do with your life if all you can do is look good |
| Young Tom: | What can you do with your life if all you can do is look good? |
| | |
| --- | --- |
| Aaron Altman: | I know you care about him. I've never seen you like this about anyone, so please don't take it wrong when I tell you that I believe that Tom, while a very nice guy, is the Devil. |
| | |
| --- | --- |
| Jane Craig: | I-I can't help you. Sorry, I'm not here to teach remedial reporting. |