A Bronx Tale
(1993)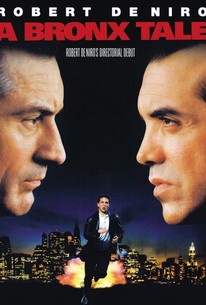 TOMATOMETER
AUDIENCE SCORE
Critic Consensus: A Bronx Tale sets itself apart from other coming-of-age dramas thanks to a solid script, a terrific cast, and director Robert De Niro's sensitive work behind the camera.
Movie Info
Gangster Sonny is the big man in Calogero's Bronx neighborhood. A shooting witnessed by Calogero is the starting point of a lasting bond between the gangster and the small boy. Father (bus driver Lorenzo), however, disap- proves. Calogero grows up under the wings of both men, torn between his own natural honesty and his fascination with Sonny. C's neighborhood cronies get involved in theft, use of guns, racial fights. When C meets girl, things don't become easier. C's leap to manhood is marked by tragedy, but also by his recognition of the many faces of love.
Critic Reviews for A Bronx Tale
Audience Reviews for A Bronx Tale
½
Derivative of Scorsese's work while sampling Spike Lee and John Singleton, De Niro's directorial debut is affecting and appealing to the eyes. It's a lighter watch than Goodfellas or Do The Right Thing because of the nostalgic tone that underpins it all, and most of the time, it's authentic. The romantic subplot and the stuttering final half-hour are downsides, but in all it's a subtly powerful film, and something I'm sure I'd enjoy watching again.
Daniel Perry
Super Reviewer
½
A Bronx Tale is a near flawless, brilliant coming of age film mixed with elements of a traditional gangster film. Robert De Niro directs his feature length debut with flair, and the result is a stunning, well crafted piece of cinema that is very well acted, paced and directed. De Niro's flair as director and actor is immaculate and he possesses a gift to tell an engaging and compelling story. A Bronx Tale is essential viewing for fans of gangster cinema and is a refreshing take on the traditional story as well. De Niro's directing immaculate, and he understands how to craft a solid, memorable, well acted picture that is sure to please viewers looking for an effective and memorable ride throughout 1960's New York. Brilliant in its performances, the standout being Chazz Palminteri (who also wrote the film) delivers the best performance of all, I think he was a great choice to play Sonny, and let's face it, Palminteri looks the part of a mob boss.This is a well crafted film that is among one of the best gangster films in the early 90's. Of course it's no Goodfellas, but it definitely has something special going for it. The performance alone make this film what it is, and it's a wonderful, unforgettable film that balances the crime film genre along with the coming of Age elements that delivers something unique on-screen. This is a fine film worth checking out and it has a well executed story that is sure to appeal to gangster film fans. Robert De Niro delivers a stunning debut feature, and it is quite different from previous roles that he has done. A Bronx Tale is filmmaking at its finest.
½
For his directorial debut, Robert De Niro looked to Chazz Palminteri's script (based on his somewhat autobiographical play), and the result is something very phenomenal. Using the coming of age format, A Bronx Tale is a helping of gangster movie with a few scoops of Romeo and Juliet-esque romance thrown in to tell the story of Calogero, a young Italian kid whose loyalties are torn between his hard working, stern, but caring father Lorenzo the bus driver, and Sonny, the flashy criminal figure who operates right down the street as he grows up during the racially divided and tense Bronx of the 1960s. While the film does contain strong shades fo Scorsese (really, how could it not?) the film avoids being a clone and is instead a rich and wonderfully observed story about differing views and philosophical beliefs, and how they work (both separately and together) to shape how someone grows up, perceives the world, and lives their life. One of the particular dimensions that is really appropriate that gets dealt with is race relations, and it is here where there are some really nice and quite moving scenes, which hit harder when taken into the broader context of Calogero's life. There's some typical gangster stuff, but De Niro treats the material with just the right touch- not shying away from it, but not going overboard. I really liked these scenes, but I think I enjoyed the other stuff involving his father and the race relations a bit more. My only real complaint is that I think the latter two could have each been dealt with just a bit more. They get decent coverage, but still, the film clearly has a favorite, even if the contest is a close one. As far as performances go, De Niro is really good as Lorenzo, He brings a great sense of authenticity and wisdom, and it's neat seeing a gnagster movie where De Niro isn't a hood. Chazz Palminteri, since the material is his, was probably the only really appropriate choice for Sonny, and he too is excellent. Francis Capra is fine as the younger Caolgero, but Lilo Brancato, Jr. is really terrific, a revelation perhaps, as the older "C". For her part, Taral Hicks is pretty good as well as Jane, "C"'s potential (forbidden) love interest. The Scorsese influence is undenianble, what with the subject mattter, and especially the music choices (as well as a couple of homage scenes), but ultimately De Niro makes the film his own, and proves that, despite putting a significant amount of focus into his performances over the years, he paid quite a lot of attenton to what the crew were doing as well. It's a shame he doesn't direct more often. All in all, a fantastic film with great messages that, while not always totally subtle, never gets too preachy or overbearing. I definitely give this one a high recommendation.
Chris Weber
Super Reviewer
A Bronx Tale Quotes
| | |
| --- | --- |
| Calogero Anello (Age 9): | (at confession) I don't know about that, father; your guy may be bigger than my guy up there, but my guy's bigger than your guy down here. |
| Calogero Anello (Age 9): | I don't know about that, father. Your guy may be bigger than my guy up there, but my guy's bigger than your guy down here. |
| | |
| --- | --- |
| Calogero Anello (Age 17): | Sonny had five fingers, but he only used three |
| Calogero Anello (Age 17): | Sonny had five fingers, but he only used three. |
| | |
| --- | --- |
| Calogero Anello (Age 9): | It was great to be Catholic and go to confession. You could start over every week. |
| | |
| --- | --- |
| Calogero Anello (Age 17): | Sonny had five fingers, but he only used three. |