B.T.K.
(2008)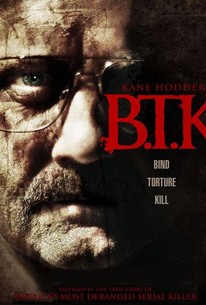 AUDIENCE SCORE
Critic Consensus: No consensus yet.
Movie Info
The disturbing tale of the depraved serial killer known as B.T.K. (bind-torture-kill) comes to the screen in this true crime shocker starring Kane Hodder. Dennis Rader (Hodder) was a true wolf in sheep's clothing. An upstanding citizen and family man who served as president of his Wichita, Kansas church, Rader was a trusted member of his community who worked as a security officer. But just beneath Rader's carefully crafted, suburban father façade lurked a malevolent alter ego, a killer without a conscience who never distinguished between men, women, and children when his murderous rage took hold. Inspired by actual events, B.T.K. takes us into the terrifying world of a madman who kept his dark secret from becoming public for over thirty years.
Critic Reviews for B.T.K.
All Critics (2) | Fresh (2) | Rotten (0)
Overall B.T.K. is a decent watch if you enjoy delving into the depths with real serial killers.
Overall B.T.K. is a decent watch if you enjoy delving into the depths with real serial killers.
Audience Reviews for B.T.K.
Worst horror ever. Obviously the cheapest made and worst acted movie ever.
Film Crazy
Super Reviewer
Very poor movie with some of the worst acting i've seen in a long time.Kane Hodder is not a very good actor and needs to stick to what he does best hockey mask.Save your save and avoid this one, i know i wish i did!
Brian De Guelle
Super Reviewer
Iron Maiden should sing a song called Bring Kane Hodder to the Slaughter. I've never been a fan of the low budget, based on a true story, serial killer film. It seems the filmmakers usually care a lot more about the subject than I ever will. I gave this one a chance because I remember being fairly interested in the BTK story when I saw it on 60 minutes or something like that. The main interesting thing seemed that it was a serial killer who retired to start a family and lead a good life and then was drawn back to killing. Sounds interesting doesn't it? Could be an examination of good and evil and it's constant struggle within men's souls, a character drama about an extremely sick man trying to outrun his twisted desires or even a complex police procedural/serial killer film. I'm sure none of those even entered the producer's heads as they went off to make a movie about a dude, played by Kane Hodder, killing women. To bad, this could have been a good film if anyone had any ambition.
Christopher Brown
Super Reviewer
B.T.K. Quotes
There are no approved quotes yet for this movie.