Buffalo '66
(1998)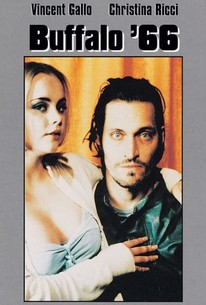 Movie Info
First-time director Vincent Gallo stars in this self-consciously stylized story of a social misfit who's rescued from emotional annihilation by the girl he kidnaps.
News & Interviews for Buffalo '66
Critic Reviews for Buffalo '66
Audience Reviews for Buffalo '66
A small-time waster fresh out of prison kidnaps a girl and forces her to pretend to be his wife in an attempt to fool his dysfunctional parents into believing he's living the good life. Buffalo '66 is trying oh-so-hard for "indie chic". Writer-director Vincent Gallo essentially presents us with a love story for emotional retards, as his "hero" Billy has clearly been emotionally scarred by his upbringing at the hands of his Denver Broncos obsessed mother and self absorbed, emotionally distant father. It's a nice idea and I'm sure female fashionistas who fancy themselves as preferring "troubled" and "complex" men (as long as they dress like rock stars and have perfect bone structure, of course...) to jock types think it's the best thing since sliced bread. The biggest problem is with Gallo himself; he is clearly such a self obsessed narcissist that instead of a traumatized, insecure victim, he comes across as an obnoxious, arrogant asshole and as such it seems deeply unlikely that such an appealing creature as Christina Ricci would have anything to do with him. It has some nice visual touches and I certainly warmed to the film more and more as it went, but in the end it all seems just a little too pretentious and a little too unconvincing to be the work of genius that Gallo himself clearly thinks it is.
I have been watching this one nonstop for a year and am still unable to write a review. I cannot say anything about this movie, it is impossible to translate my feelings into words and then decide which of those words i would use and which i am too embarassed to use, because i am in love with this movie. I am wholly, madly, truly in love with everything that this movie is. Generally, i dont relate to characters in movies. it just doesnt happen because i am a weird, skinny, nervous asshole with just a small branch of autism. sound familiar? it does if youve seen Buffalo '66. I honestly DO-NOT-CARE if anyone else sees this. this was made to help me through my miserable, sad life. God first made Vincent Gallo, then Vincent's parents fucked him up, then he moved to New York and evolved into the person he is, then made a movie about it, just so i would not kill myself after i graduated highschool. No man is an island.
Coxxie Mild Sauce
Super Reviewer
½
First time director Vincent Gallo delivers an imaginative, comical tale of a social misfit who gets out of prison after a five year sentence, only to go home to yet another prison overseen by his barely socialized parents portrayed by Anjelica Huston and Ben Gazzara. Gallo plays Billy Brown who spends the first part of the film in desperate search of a bathroom in dingy, cold Buffalo, and eventually wanders into a tap dance studio to relieve himself. He ends up kidnapping a young woman named Layla(Christina Ricci) from her tap class to use as the right girl to show off to his twisted mother and father who may or may not be there or care much for their troubled son. This film is a bit difficult to summarize in a brief review as there is a lot going on between Billy and his parents, Layla and her parents, Billy's odd friends who give clues as to how he could wind up in prison with their misplaced sense of being and distorted portrayals that aren't so clearly defined, and Billy's relationship with all of the aforementioned.
Buffalo '66 Quotes
| | |
| --- | --- |
| Billy Brown: | Making good, making good, good one!!! |
| Billy Brown: | Making good, making good, good one! |
| | |
| --- | --- |
| Layla: | Can I have a hug then? |
| Billy Brown: | Oh man. Come on. Can we just shake hands? |
| | |
| --- | --- |
| Layla: | I really like you. I'm gonna be really sad if you don't come back, unless you tell me. If you're not gonna come back, just tell me. Don't lie to me. Are you gonna come back or not? |
| Billy Brown: | If you don't want me to go, I won't go, all right? I won't get a hot chocolate. We can just... |
| Layla: | If you want a coffee, go get a coffee. Just come back. |
| | |
| --- | --- |
| Billy Brown: | You adore me, you love me, you cherish me, Jesus Christ you can't live without me. |
Discussion Forum
Discuss Buffalo '66 on our Movie forum!