Bugmaster
(2007)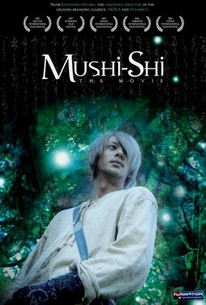 AUDIENCE SCORE
Critic Consensus: No consensus yet.
Movie Info
Yuki Urushibara's long-running manga series comes to the screen in this live-action adaptation directed by Katsuhiro Otomo, creator of the groundbreaking manga and anime classic Akira. Mushi are an unusual life form that is neither animal nor vegetable, but is possessed of the elusive essential life force of the universe, and has special talents that approach those of supernatural beings. Very few human beings are able to see the mushi, but Ginko can. Ginko makes his living as a "Mushi-shi," a master who travels from town to town, meeting people who have had troubling experiences with the mushi and helping them sort out their problems while trying to maintain a respectful relationship with the creatures. Starring Joe Odagiri, Nao Omori and Makiko Esumi, Mushi-shi received its world premiere at the 2006 Venice Film Festival.
Critic Reviews for Bugmaster
There are no critic reviews yet for Bugmaster. Keep checking Rotten Tomatoes for updates!
Audience Reviews for Bugmaster
A science fiction film that will probably not be what you are expecting. This isn't your typical Japanese sci-fi/fantasy film. No action and wacky characters. This isn't a film for the really young ones. Nonetheless, there is more to this movie than meets the eye.
This film moves really slowly. Not only that, but it is over the 2 hour mark. The beginning of this film will seem like it is going nowhere, but if you can follow what is going on and stick with it, the story is actually quite interesting. It is one of those movies where things from the beginning, that may be a little confusing, should make sense the further you go. As I just mentioned, you really do need to pay attention to this film, even with the slow pace, or you will get lost.
This film doesn't use a whole lot of CG, but it really is a big part of the story. The good thing about it is that it is nicely done. The "writing sequence" in the middle is pretty spectacular. Honestly, this film got me thinking of The Last Mimzy. Slow, but an interesting story with some outstanding CG.
For the most part, the acting is good, although the characters are quite bland. Popular faces play the bulk of the main characters, including Jo Odagiri, Yu Aoi, and Makiko Esumi. I, myself, am happy to see a short part from one of my favorites, Hideo Sakaki.
This may not be the greatest sci-fi/fantasy movie ever made, but if you are willing to put up with a snail-paced film with an interesting story, this should be on your "want to see" list.
Bugmaster Quotes
There are no approved quotes yet for this movie.