Butterfly Kiss
(1996)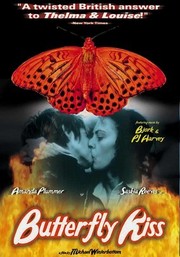 Butterfly Kiss Trailers & Photos
Movie Info
This unsettling variation on Thelma and Louise (1991) is an unusual and often macabre love story/black comedy about two peculiar women, played by Amanda Plummer and Saskia Reeves, who roam through Northern England on a killing spree. Plummer is Eunice, a tattooed, schizophrenic free spirit who is wandering in search of her recently departed lover, Judith. She leaves one gas station attendant dead when the person admits to not being Judith. But when she meets Miriam (Reeves), another gas station attendant who longs for love and attention, Eunice doesn't ask the fatal question. Strangely captivated by the eccentric woman, Miriam spends the night with Eunice and falls under her peculiar charm, Calling each other "Eu" and "Mi," they hit the road, where they murder anyone who gets in their way. Both women sense that their actions will ultimately bring about a tragic end, but their dedication to their cause (rebelling against men who trivialize and demean women everywhere) and their love for one another gives them the strength to carry on. Though Plummer's Eunice seems to have the upper hand through most of the film, it is the sacrifice that "Mi" makes for "Eu" that catches and holds the viewer at the conclusion of this bizarre little tale. ~ Don Kaye, Rovi
more
Cast
News & Interviews for Butterfly Kiss
Critic Reviews for Butterfly Kiss
Audience Reviews for Butterfly Kiss
If you're sick of kinky killers and English rip-offs of American genre movies, this terminally bleak and violent 1995 road movie may irritate the hell out of you--unless you're as impressed as I was by Amanda Plummer's performance.
½
Micheal Winterbottom's first film comes years after Greg Araki's "The Living End" and "Thelma And Louise", but where the later lead to some kind of bittersweet empowerment, the former film always existed in relation to society at large (usually depicted as angry rednecks), "Butterfly Kiss" let's it's cast, particularly Amanda Plummer as the delusional and manic Eunice scowering the gas stations of England for a woman named Judith, who she claims to love, and murdering or assaulting those she finds to be "Not-Judith" for being impersonators. Sheepish Miriam played by Saskia Reeves is submissive, frail, and doe eyed enough to be the heroin of a Lars Von Treir flick. In fact the naturalistic cinematography, cruelty, and intensity of performances also fit LVT trademark, but the fantastic use of pop songs, the mixture of ligthness into sudden violence, and black and white breaking of the 4th wall; these uncanny shifts in tone elevate it above the numerous 90's spree films. The highlights are performances of the underrated leads, and the evocative use of pop songs (The Cranberries, Bjrok, PJ Harvey etc) that make up the soundtrack. Funny, frantic, visually daring (especially for a first film) "Butterfly Kiss" lives in a world of it's own, soaking in the calm and scenic warmth of heads pressed against xar windows, even if the cars have day old corpses in the trunk.
Discussion Forum
Discuss Butterfly Kiss on our Movie forum!
News & Features