Buzz
(2006)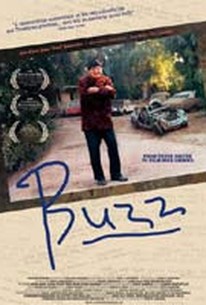 TOMATOMETER
AUDIENCE SCORE
Critic Consensus: No consensus yet.
Movie Info
Buzz is a memorable, absorbing and illuminating profile of the legendary Hollywood scriptwriter (and acclaimed novelist) A. I. "Buzz" Bezzerides from Director N. Taraviras. His most notable credits are Robert Aldrich's timeless Kiss Me Deadly (1955), Jules Dassin's Thieves' Highway (1942) and Raoul Walsh's They Drive By Night (1940). Bezzerides quickly became known as "the King of Noir" -- in fact, no less an authority than Francois Truffaut reckoned the Bezzerides-scripted Juke Girl (1942) to be America's first real film noir. The man himself is well into his tenth decade, but on the evidence of Taraviras's loving tribute, "he's lost remarkably little of his famous zip and joie de vivre."Taraviras carefully traces Bezzerides' exotic pre-Hollywood existence: born 1908 in the Black Sea city of Samsun (now Turkey) under the rule of the Ottoman Empire, he moved to America at a very young age and was brought up among the fruit pickers and truckers of Fresno, California -- which background became source material for several of his novels and screenplays. Interviewed between 1999 and 2002 in his spartan Los Angeles residence, Bezzerides proves enormously engaging company as he takes us on an idiosyncratic tour down memory lane. Anecdotes abound, featuring the likes of Faulkner, Monroe, Reagan, Bogart, Mitchum and many more -- Buzz will be invaluable to future historians as it is entertaining to general audiences.His was truly a fascinating career. "Graylisted" during the McCarthy era, "Buzz" was one of many talents to suffer from the industrial-style practices of the "dream factory" in which writers were regarded as being at or near the very bottom of the food chain, and frequently denied screen credits. Filling in the background of the era, Taraviras includes incisive contributions from academics Georgakas and Garnier, who put everything in accessible historical context. Hollywood bible Variety neatly sums it up: "manna to movie buffs!" -- © Outsider Pictures
Audience Reviews
There are no featured reviews for Buzz at this time.
Buzz Quotes
There are no approved quotes yet for this movie.