By The Gun
(2014)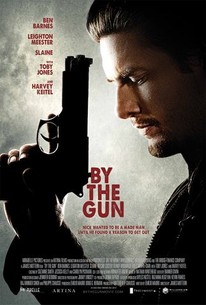 AUDIENCE SCORE
Critic Consensus: No consensus yet.
Movie Info
A good kid at heart, Nick got caught up in the street lifestyle he was exposed to while growing up in Boston's North End. He began running with the wrong crowd and was soon fully immersed in a life of petty crime. The eldest son of two first generation Italian parents, Nick always felt the pressure to contribute to the family's American dream, especially once that dream stopped making ends meet. After his mother passed, his father (Paul Ben-Victor) refused to accept his help financially, even though it was needed to help support his younger brother Vitto (Kenny Wormald). Nick never gained acceptance from his father, who looked down on Nick for his lifestyle. (C) Millenium
Critic Reviews for By The Gun
Audience Reviews for By The Gun
½
When a man takes the oath to become a made guy in the Mafia, he promises to put the family before anything else. For most gangsters, this never becomes an issue, but for Nick Tortano (Ben Barnes) it becomes the basis for an impossible decision. A series of events lead Tortano into having to decide between his new family and his old one. Either choice means that someone he loves will become a target, and he has to decide, who in his life is the most expendable. Most films about the Mafia follow a very specific pattern, leading people to say all these films are the same. There is some truth to that, but By The Gun is certainly an exception. The film follows a new member is a small family and the story told from his point of view, giving us a very different look at La Costa Nostra. Ben Barnes stars in one of his first leading roles and was outstanding. Barnes, mostly recognized as an ancillary character from the Chronicles of Narnia series, finally steps into the spotlight and shows that he has what it takes to star. I was impressed with the story and setting of this film, but I wasn't crazy about the cast, in fact, there were several actors who really brought the quality of this movie down, but Ben Barnes wasn't one of them. His performance really added some legitimacy to this film and if it wasn't for him, I wouldn't be recommending it at all. By The Gun is not your typical Mafia movie, because Nick Tortano isn't your typical gangster. He has a conscience that comes into conflict with his life of crime at every turn and watching him decide the fate of everyone he loves was really something worth watching.
Todd Smith
Super Reviewer
½
The crime thriller By the Gun is a fairly mediocre and stereotypical film that relies mostly on clichés and stereotypes. When small-time mafia henchman Nick Tortano gets made his loyalty is soon tested; forcing him to choose between his blood family and his new mafia family. Starring Ben Barnes, Leighton Meester, Toby Jones, and Harvey Keitel, the casting is pretty good. But, the characters are underdeveloped and don't have much depth to them. And, the plot is very straightforward and predictable. Following all of the usual tropes of mob film, By the Gun is rather bland and uninspired.
Dann Michalski
Super Reviewer
By The Gun Quotes
There are no approved quotes yet for this movie.
Discussion Forum
Discuss By The Gun on our Movie forum!