Camp De Thiaroye
(1990)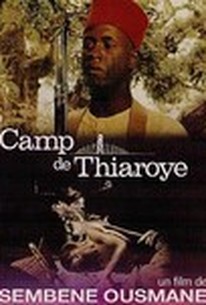 AUDIENCE SCORE
Critic Consensus: No consensus yet.
Critic Reviews for Camp De Thiaroye
All Critics (2) | Fresh (2) | Rotten (0) | DVD (1)
Sembene never descends into the one-note shrillness of Spike Lee at his worst.
The tragic events at Camp De Thiaroye serve as a powerful indictment of colonialism.
Audience Reviews for Camp De Thiaroye
½
In 1944, African soldiers are assigned to a camp on their way to being repatriated to their native countries. Sergeant Major Aloise Diatta(Ibrahima Sane) is looking forward to returning to France where he can resume his studies and reunite with his wife and daughter. When Captain Raymond(Jean-Daniel Simon) tries to greet Diatta's family, he is shunned, due to a massacre by French army troops that destroyed much of Diatta's village. In the camp, it does not take long for things to turn sour, as the African soldiers complain about the unedible food. When they do not get immediate action, they do the sensible thing and order out while Diatta goes to town to get a drink. While badly in need of better characterization, "Camp de Thiaroye" builds through a slow boil to an unforgettable climax. And even though one should always be very, very careful when making parallels to the Nazis(which this film does), here I think it applies not only to the incident that is based on a true event, but also to other travesties and atrocities committed by colonial authorities that only begin with the maltreatment of soldiers who risked their lives in Europe and redbaiting, not only in Senegal but also in Algeria around the same time. Out of such loss of life, you can see the first seeds of the independence movement which would in short order take hold and transform these countries.
Camp De Thiaroye Quotes
There are no approved quotes yet for this movie.