Kan Door Huid Heen (Can Go Through Skin)
(2009)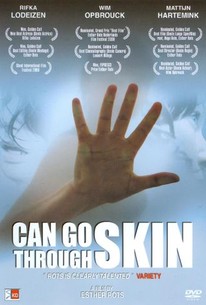 AUDIENCE SCORE
Critic Consensus: No consensus yet.
Movie Info
A carefree woman from Amsterdam retreats into the Zeeland countryside after being assaulted in her home, growing increasingly paranoid and vindictive in her isolated new surroundings before slowly learning to control her fears. Marieke is a cheerful woman in her early thirties. She enjoys living the fast life in Amsterdam. Marieke's fate takes a turn for the worse, however, when her boyfriend breaks up with her and a pizza delivery boy breaks into her house and assaults her. Impulsively purchasing a derelict cottage in the Zeeland countryside, Marieke attempts to shake off her painful memories in her scenic new surroundings. But the wide-open winter environment seems to have the opposite effect that Marieke had hoped for. Feeling unsafe in her new home, Marieke begins to regard kindly local John as an unwelcomed intruder. When Marieke's attacker is handed only a light sentence for his crime, she attempts to avoid becoming a victim by reaching out to others like her on the internet. Later, as spring gives way to summer, Marieke embraces the rejuvenating powers of the seasonal change, enters into a relationship with John, and gets pregnant. But although Marieke claims to look forward to becoming a mother, she has less control over her life now than ever before.
Critic Reviews for Kan Door Huid Heen (Can Go Through Skin)
All Critics (1) | Fresh (1) | Rotten (0)
While the architecture may not exactly come alive to torment Marieke à la Repulsion, Rots's fluid yet elliptical style hints at horrors present in the protagonist's mind, if not actual reality.
Audience Reviews for Kan Door Huid Heen (Can Go Through Skin)
I've seen it for the second time now and Rifka Lodeizen gives an amazing performance. My experience with dutch movies is that they can be very theatrical, but this movie isn't. It's about a strong and eccentric young woman who decides in a whim to buy an old house in the country and leave Amsterdam after a traumatic experience.
Kan Door Huid Heen (Can Go Through Skin) Quotes
There are no approved quotes yet for this movie.