Independent Lens
(2007)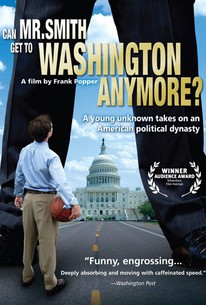 Movie Info
Using an underdog congressional bid as a springboard, director Frank Popper explores the dangers of political dynasties in this documentary that aired as part of PBS's Independent Lens series. In 2004, 29-year-old political unknown Jeff Smith decided to make a run for an open congressional seat in Missouri, and soon found himself facing off against a political Goliath. With only a passionate grassroots group of volunteers behind him, Smith's candidacy serves as a true test of the efficacy of the little guy in modern American politics.
Critic Reviews for Independent Lens
Audience Reviews for Independent Lens
½
Just like its subject, not everything goes right all the time for Can Mr. Smith Get to Washington Anymore, but the film is ultimately a fascinating, eye-opening portrait of an everyman's grab for a US Congressional seat.
An underfunded documentary about how sponsership really takes a large hand in politics.
Spencer S.
Super Reviewer
½
[font=Century Gothic]"Can Mr. Smith Get to Washington Anymore?" is a perceptive documentary about Jeff Smith, a 29-year old professor, community activist and neophyte politician who is running for Congress in Missouri's Third District comprising St. Louis and environs. There are nine other Democrats running in the primary with the odds on favorite being Russ Carnahan, if only because he is a scion of a Missouri political dynasty. To combat this, Smith heads a valiant campaign staffed with non-professionals and hard working volunteers.[/font] [font=Century Gothic][/font] [font=Century Gothic]What the film is generally concerned with is the status quo as personified by political dynasties. And the best way to combat that is good old fashioned shoe leather, for which there is no substitute. The movie refutes the electability myth which is supporting a candidate only because he can win, not because he is the best candidate. [/font]
Independent Lens Quotes
There are no approved quotes yet for this movie.