Apocalypse Domani (Cannibal Apocalypse)
(1980)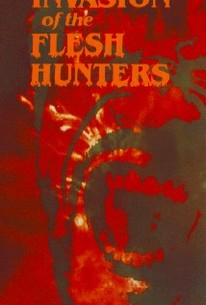 Movie Info
Half zombie epic, half cannibal gorefest, this unusual blend of two popular Italo-horror subgenres results in a high-octane thriller that delivers the gory goods. The story involves a group of former Vietnam POW's who contract a bizarre disease in captivity which compels them to eat human flesh. Needless to say, this makes assimilation into post-war American life rather difficult as the gestating disease takes hold on the returning veterans, whose cannibal instincts eventually fight their way to the surface. One such victim is commando Norman Hopper (John Saxon), who is bitten by one of the POW's during a rescue mission and carries the gestating contagion back home. When the soldier who bit him (John Morghen) is released from a veterans' psychiatric hospital after apparently being cured, he makes brief phone contact with Saxon before succumbing to an immediate relapse, leading to a gory rampage and subsequent shootout with police. When Saxon begins feeling the urge to munch -- first developing an appetite for the teenage cupcake next door -- he springs his fellow cannibals from the hospital, leading to another bloody confrontation with the police -- this time in the city sewers. Director Antonio Margheriti (alleged ghost-director of Andy Warhol's Blood for Dracula and Flesh for Frankenstein) manages to fuse crime-thriller conventions with gory cannibals-in-the-streets horror without losing viewers' interest, although the drastically-edited video version (under the title Invasion of the Flesh Hunters) suffers badly from the absence of Gianetto De Rossi's chunk-blowing makeup effects. The dialogue, while better than the average Italian post-dubbing job, is so overloaded with profanity that it becomes unintentionally hilarious. Released under a dozen titles, the best-known being Cannibal Apocalypse.
Critic Reviews for Apocalypse Domani (Cannibal Apocalypse)
Audience Reviews for Apocalypse Domani (Cannibal Apocalypse)
It served as the basis for 28 Days Later with a similar plot. But hold on a second, the disease doesn't turn people into zombie flesh eaters, instead they develop craving for flesh but still have conscious (and are able to have a gun fight with the police) It went from a seemly cannibal exploitation to police thriller, and then became an adventure film? It's a real mess, although may be fun to watch.
Sylvester Kuo
Super Reviewer
½
Vietnam vet Norman Hopper (John Saxon) has suddenly begun to relive the nightmare of war in his dreams. He receives a phone call from an old army friend, Charlie Buckowski, that he rescued in Nam, Buckowski and another man Tom Thompson had been found in a Viet Cong prison with a craving for human flesh and both had since been in a mental hospital for psychological analysis. Hopper turns down the offer of meeting his old mate as he is struggling with demons of his own, he believes his wife may be an adulteress, he is also attracted to the very young girl next door and more importantly he is stressed at his increasing craving for raw meat and blood. Buckowski goes on a shooting rampage and kills a few people and is locked up again, but then escapes along with Thompson and he urges Hopper to help them escape the city. Saxon a fluent Italian speaker and a veteran of many Italian films, jumped at the chance of working with the great Margheriti and was immediately impressed by the directors rapport with actors and his talent behind the camera, Saxon was also attracted by the seemingly novel idea that war might be spread by a virus, he was shocked though when during filming he suddenly realised that the virus was a cannibalistic one and he refused to be in any of the scenes containing such acts. For those who like the adventure aspect of a jungle set Cannibal film, this might disappoint slightly, except for a few flashbacks this is entirely set in Atlanta and plays more like a Nam Vet action film with some gore on the side. Still though, the characters are interesting and time is given to their development, Saxon impresses as the troubled Hopper, which is hardly surprising, but he may have been helped somewhat by his depression at the time, due primarily to financial problems he had after the break-up of his marriage. His fellow actors including John Morghen recount that he was rather aloof and distant and not much fun during filming. Margheriti was renowned for his period set Gothic costume dramas and Cannibal Apocalypse was a big change of style for him, gone are all his trademark stylings and in come the more appropriate washed out colours and a steely grey look of the city. The gore is for the most part pretty tame by genre standards but its still effective. The faux disco score was tacky as hell and at times seemed inappropriate to the visuals, but this is still a fun film, and is recommend to fans of the genre
Cassandra Maples
Super Reviewer
½
Thank you for the recommendation Tico P Directed by Antonio Margheriti and staring John Saxon, Elizabeth Turner. The film itself is very interesting to me it's a modern prototype to the film 28 days later about a virus spreading throw out the city caused by an infected Vietnam veteran who begins to crave for human flesh. It starts off in Vietnam where John Saxon gets bitten by P.O.W. John Morghen who has been infected with some sort of cannibal virus. A few decades later in Atlanta, Georgia, Saxon wakes up from a nightmare flashback of what actually happened back in vietnam. Saxon then receives a call from Morghen asking him if he wants to go out for a drink but Saxon refuses remembering the incident in vietnam. Morghen has turned into a cannibal and is soon on the run after biting into a woman's neck. He barricades himself in a department store and shoots some folks with a shotgun. The cannibal virus spreads and soon Saxon joins veterans Morghen and Tony King along with some others to wreak some havoc. It's a very fun movie to watch much better then I thought it was going to be. But like I have said I have no doubt 28 days later was based on this. 80% for story sure it is very bloody and gory but it 100% never drags or makes you bored. 70% for acting John Saxon I liked in this movie as well as nightmare on Elm Street and I thought he played a great part. But for other cast member I thought it was a bit average. 90% for special effects I read its budget is only $75,000 to me the effects were very good I am sure anyone that loves gory movies would enjoy it. 60% for characters I think they were a bit under done I would have like to have known more about a few of them. 70% for other the film has some bad music, Some really cool scenes, and some very bloody and disgusting moments. But I do say watch this movie if you can find it. Keiko's score 79-100.
Apocalypse Domani (Cannibal Apocalypse) Quotes
There are no approved quotes yet for this movie.