Captain Underpants: The First Epic Movie (Captain Underpants)
(2017)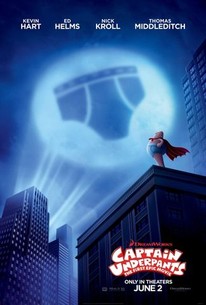 TOMATOMETER
AUDIENCE SCORE
Critic Consensus: With a tidy plot, clean animation, and humor that fits its source material snugly, Captain Underpants: The First Epic Movie is entertainment that won't drive a wedge between family members.
Captain Underpants: The First Epic Movie (Captain Underpants) Videos
Captain Underpants: The First Epic Movie (Captain Underpants) Photos
Movie Info
Based on the worldwide sensation and bestselling book series, and boasting an A-list cast of comedy superstars headed by Kevin Hart and Ed Helms, DreamWorks Animation brings audiences the long-awaited global movie event, Captain Underpants: The First Epic Movie. This raucously subversive comedy for the entire family tells the story of two overly imaginative pranksters named George and Harold, who hypnotize their principal into thinking he's a ridiculously enthusiastic, incredibly dimwitted superhero named Captain Underpants.
News & Interviews for Captain Underpants: The First Epic Movie (Captain Underpants)
Critic Reviews for Captain Underpants: The First Epic Movie (Captain Underpants)
Audience Reviews for Captain Underpants: The First Epic Movie (Captain Underpants)
Films directed at children can be hit or miss, in the fact that they may rely too heavily on potty humour or silly slapstick gags. Captain Underpants: The First Epic Movie is actually both of those things, but in the best way possible. For everything this film showcases, it had no right to be as funny or as clever was its final product is. As a kid, I grew up reading every one of these novels, so it definitely helps with the overall experience if you have that backing it up, but if you're going in with fresh eyes, I can see most people falling in love with this silly premise. This is a hard film to critique, because it's cliched from beginning to end, but it's incredibly self-aware and flips the genre on its head. Here is why I believe everyone should be checking out the harmlessly well-made Captain Underpants: The First Epic Movie. The children's books were very much like comic books themselves, but the way the story is brought to life here was fantastic. Following Harold and George, two best friends who like to create comic books about a superhero called Captain Underpants, who find a way of turning their evil principal into that titular hero, only to realize that their trick may not be all it's cracked up to be, there is an enormous amount of silly fun to be had here. The premise itself is unique, but it's the jokes and overall message that this film is able to conjure up that really make it worth while. The gags spread throughout this film are laugh-out-loud funny and I wasn't expecting that going in. When I first heard about this film, I was worried that it would be a cash grab in that it wouldn't be truly satisfying the fans of the original material, but thankfully, it does so in spades. From the names of stores, signs on front lawns, there are subtle jokes in the forefront that are made completely obvious, and there are others hidden in the background as well. When there isn't something all that funny happening on purpose, the background will always have a hidden gag to compensate and I was chuckling throughout my entire viewing experience. Captain Underpants: The First Epic Movie is the most I have genuinely laughed at a film in a very long time. For how juvenile it is, I was surprised how much I enjoyed it. From the very first few minutes of this film, you'll know the type of humour you're in for. It was crucial to this story that it doesn't stray too far away from the silliness and it did a very solid job. It definitely meanders in the second act and there are a few times where the premise became a little too outlandish for adults to fully enjoy, but it is a kids film overall. Unlike films like Inside Out or Wreck-It Ralph that are directed at kids, but have much deeper meanings, Captain Underpants: The First Epic Movie is the lowest common denominator of comedy, and yet the writers (who are the original writers of the books) are able to skate around any eye rollers. Never once did I think an endless amount of poop jokes would be funny, but it's done very cleverly and I found it irresistible. In the end, the trailers for this film make it look a little too silly and I can see the majority of adults being turned off, but please, don't let the trailers fool you. This is a very smartly written film and if you really think about each joke and pay attention to every word the characters are saying, it's either poking fun at society or at its own story. There is so much to love about Captain Underpants: The First Epic Movie. That being said, if it wasn't for the great script, this would've fallen into muddy waters. Literally the only saving grace is the fact that it's smart. It really is just another silly kids movie on the surface, but you need to look past that to see the greatness. It's almost too dumb and simple for its own good, but as a film, it's really, really good. I may have been back-pedalling a bit there at the end, but that's only because it's not a perfect film, but no movie is. Captain Underpants: The FIrst Epic Movie deserves to make money and definitely deserves a sequel. Highly recommended to fans of the source material or anyone who it just looking for a fun story or a good laugh. I had a smile on my face the entire time and it will definitely warrant multiple viewings on my end. If you can't decide on a movie to see, check this one out.
So far in this weak year for animation we've had several mediocre attempts and one only okay one. The first sign of hope for this years animation crop comes in the form of Captain Underpants: The First Epic Movie which uses surprisingly ingenious potty humor and a subtly touching friendship story to save the family movie scene. At least temporarily. The voice acting is phenomenal in Underpants with Kevin Hart and Thomas Middleditch offering sarcastic, but good-hearted performances as the leads while Ed Helms perfectly balances the evil Krupp with the pure joy of Underpants. Nick Kroll once again proves his voice acting expertise playing Professor Poopypants. While adults may walk into the film skeptical, they should ultimately be won over by the charm and creative energy released by the exuberant film. And everyone will love the comic book animated montages and sock puppet asides. The film is truly hilarious, but it is lacking in the emotion section. There aren't many moments of pure heart in the film but there is an underlying feeling of pure innocent joy in the process of creative thinking, and when the boys re-open the art department in the school, fellow artists and creative thinkers may shed a happy tear. Overall, Captain Underpants flies to the rescue of this dismal animation year by not taking itself too seriously. If you don't laugh at a pre-rehearsed elementary performed whoopee cushion version of 1812, then you need to smile more. Rating: 83
½
It was nice, for once, to walk into a movie having not watched a single trailer, having not read the source material, and literally having zero to no expectation for what was about to be delivered. This type of movie-going experience doesn't happen often in the age of the twenty-four hour news cycle, especially when large portions of that cycle are dedicated to updating fans on every inch of a new movie's production status. The truth of the matter though, was that I personally had zero interest in Captain Underpants, his books, or his potential movies and chalked this initial feature up to being nothing more than a relatively cheap and easy cash grab to capitalize on the popular book series by Dav Pilkey. Still, even this kind of "brand recognition" mentality seemed like it wouldn't serve DreamWorks Animation in the way they might hope as the last I'd heard of the Captain Underpants books was when my younger brother discovered them in elementary school as they gained popularity...in the late nineties. There have been some rather large gaps in the publishing of Captain Underpants novels, but apparently Pilkey is still going strong today and given it's been almost two years since the last Captain Underpants adventure I'm assuming fans might have even been excited for the prospect of a new Underpants adventure not to mention the first one they might experience on the big screen. And so, Captain Underpants: The First Epic Movie is here and while, again, I couldn't have been more unaware of what a movie that had "underpants" in the title could possibly deliver it actually is a rather inspired and genuinely funny piece of entertainment. Granted, this is all very silly and rather outlandish while capitalizing on the fact it knows it's capitalizing on potty humor, but nonetheless the titular character and his creators, elementary school students George (Kevin Hart) and Harold (Thomas Middleditch), burst through scene after scene with tireless enthusiasm and a joy for life and all its possibilities that's downright contagious. Though I have no idea how faithful this film is to a certain novel or the series in general I have to imagine that what is captured on screen is very close to the spirit of Pilkey's series as the most vital ingredient in Captain Underpants is that of getting the audience to view these adventures through the minds of George and Harold and it is in this regard that I came to not only appreciate what Captain Underpants was mining, but kind of adore it for doing so. read the whole review at www.reviewsfromabed.com
Philip Price
Super Reviewer
Captain Underpants: The First Epic Movie (Captain Underpants) Quotes
There are no approved quotes yet for this movie.
Discussion Forum
Discuss Captain Underpants: The First Epic Movie (Captain Underpants) on our Movie forum!