Gruz 200 (Cargo 200) (Freight 200)
(2007)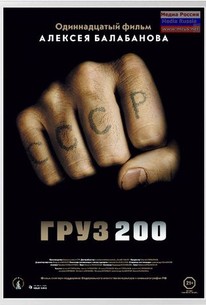 Gruz 200 (Cargo 200) (Freight 200) Photos
Movie Info
Brother director Alexei Balabanov takes the helm for this over-the-top black comedy concerning the clash between a sadistic police captain and an atheist university professor. The year is 1984, and power-abusing police Captain Zhurov (Alexei Poluyan) lives in a modest Leninisk home with his incoherent, alcoholic mother (Valentina Andryukova). Existing in stark contrast to the corrupt urban policeman, grain alcohol slinger Alexei (Alexei Serebryakov) lives in a remote country shack with his wife Tonya (Natalya Akimova). One night, on his way to visit his mother, local academic Artem (Leonid Gromov)'s care breaks down near Alexei and Tonya's cabin. Later, after Alexei and Artem engaged in a lively debate about communism, atheism, and religion, Leninisk youths Valeria (Leonid Bicevin) and Angelika (Agniya Kuznetsova) show up at the shack in search of some hooch. But Captain Zhurov, who has been lurking in the shadows all along, wants communist chief's daughter Angelika all to himself, and he's willing to take drastic measures in order to get her back to his place and work out his many sexual frustrations. ~ Jason Buchanan, Rovi
Critic Reviews for Gruz 200 (Cargo 200) (Freight 200)
Audience Reviews for Gruz 200 (Cargo 200) (Freight 200)
½
I still am uncertain what to think of this film, the previous Balabanov film was a comedic gem really taking black comedies in the direction you'd think they'd go. Known for his Tarantino-esque sense of humour and combining violence with laughs it was quite enjoyable. However, this story as gritty as it is and how true it may be is something entirely. There's maybe two people in the entire film that have anything close to a conscience. The perfomances are really believable and the violence is almost random acts of brutality. What you're gonna look at me in the wrong way? Fuck you buddy, the military's gonna beat you up. It's just really scary to see how far authority can go..or heck, how corrupt ANYONE could be. Really different, and definitely not for the weak stomachs, either. Although, I did particularly enjoy the political/philosophical debates over copious amounts of moonshine. A curious look into communist russia, for sure.
Bannan instant enigma- just add water
Super Reviewer
½
Brutal and criminally unknown film about interconnecting stories revolving around a police chief who as gone mad in 80?s Russia.  Beautifully shot and directed with great performances by the whole cast.  Downbeat, but a must see.
Christopher Brown
Super Reviewer
½
[font=Century Gothic]"Cargo 200" starts with Artem(Leonid Gromov), a professor of scientific atheism, drinking with his brother Mikhail(Yuri Stepanov), an army colonel, on a balcony in Leningrad in 1984. Artem leaves to visit their mother in Leninsk but his car breaks down along the way. Seeing a light in the distance, he goes to a cabin to ask for help and Sunka(Mikhail Skryabin), a Vietnamese national, fixes his car. A short time later, Valera(Leonid Bichevin) convinces Angelika(Agniya Kuznetsova) to go with him someplace secluded and nearby but they end up at the very same cabin where Valera manages to pass out drunk...[/font] [font=Century Gothic]Based on a true story, "Cargo 200" is a nasty, dark and brooding tale set at a time when the Soviet Union was collapsing under its own weight as dead bodies were being returned in coffins from Afghanistan at an ever increasing rate as live bodies were going in the opposite direction, the powers that be trying to cover their tracks as best they could. And on a local level, authority was either alternately being abused or simply ignored. While all of this was going on, the older generation simply scoffed at the younger generation who they expected to fight their battles but instead just ignored the old orthodoxy.[/font]
Gruz 200 (Cargo 200) (Freight 200) Quotes
There are no approved quotes yet for this movie.