The Carpetbaggers
(1964)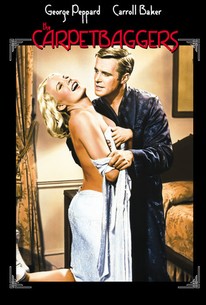 Movie Info
Set in the '20s and '30s and based on Harold Robbin's book, this drama chronicles the life of millionaire Jonas Cord, Jr. (George Peppard) who inherits his father's business and who has no scruples in romance nor business until his older friend, Nevada Smith (Alan Ladd--whose performance here was his last) knocks some sense into him. Robbins insists that his story was not based on the life of Howard Hughes.
Critic Reviews for The Carpetbaggers
All Critics (6) | Fresh (2) | Rotten (4) | DVD (1)
The sleazy pulp film was a blockbuster smash hit upon its release, proving to Hollywood that bad taste pays big dividends.
One of the all-time great potboilers featuring a powerhouse performance by the always underrated George Peppard.
October 8, 2005 | Rating: 4/5
The film was a blockbuster back in 1964 and could have been seen as the last word in silver screen sleaze ... at least as far as mainstream America was concerned.
Audience Reviews for The Carpetbaggers
½
It would be so fucking awesome if TCM and my cable company could synchronize their watches so I won't miss the end of any movies my DVR records. Because of this I invested 2 1/2 hours of my life only to miss the last 2 minutes of The Carpetbaggers. This isn't to say I completely wasted my time because I really dug what I saw. Picture Russ Meyer making a cleaned-up, yet trashy mixture of Citizen Kane, Written on the Wind and The Aviator. George Peppard plays a megalomaniacal asshole, Carroll Baker plays the opportunistic slut trying to do right and Alan Ladd plays the leathery, alcoholic father figure. The score is good and you know you're in for some fun from as early as the sensationalist title sequence--because really, what can you expect from shots of clouds at 10,00 feet with oversaturated red lettering flying at you?
Michael Gildea
Super Reviewer